Meet the Kanega Watch by UnaliWear
Traditional medical alert devices are worn grudgingly, if at all. People want to feel protected, particularly from unexpected falls, but clunky and stigmatizing pendants are a huge turn off. 
The Kanega Watch is different.
The Kanega Watch vs. other mobile medical alert alternatives
| | | | |
| --- | --- | --- | --- |
| | Kanega Watch | Other Medical Alert Watches | Apple Watch |
| Can be worn 24/7—from bed to shower to shopping-no need to remove to charge | | | |
| Fall detection built into watch | | Rarely | |
| Features RealFallTM technology | | | |
| WiFi AND cellular connectivity—for best call coverage/GPS | | | |
| 3 ways to get help; button, voice OR fall detection | | | |
| Connects to US-based monitoring center with all wearer's info | | | |
| Medication reminders | | Rarely | |
| Works out of the box—no set up required | | Not Always | |
| Price lock guarantee—no increase ever | | | |
Unaliwear's RealFall™ Fall Detection
Comes standard in every watch at no additional cost/fee.


Developed based on actuall fall data by Kanega Watch wearers and gets increasingly smarter, continously improving fall detection accuracy.


Learns Each wearer's natural movements over time, further reducing/eliminating fase fall alerts.


To learn more about our patented RealFall™ fall detection technology click here.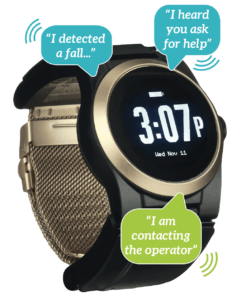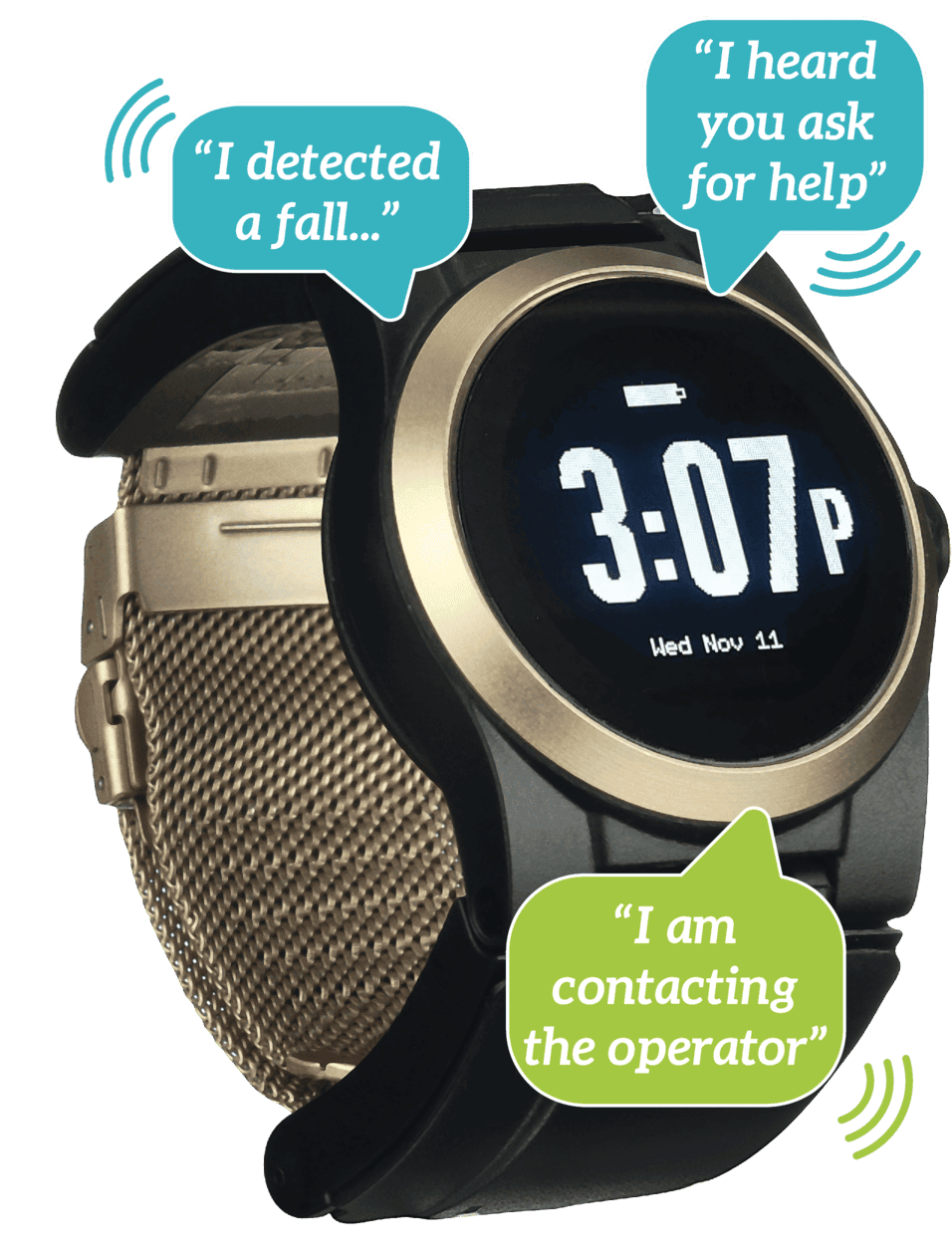 "My father wandered into the garage at 2:30 am. one night. The lights went out and he fell. Thank goodness he was wearing his Kanega Watch, We immediately recieved a call that he had fallen."
Linda J.
(Better Business Bureau Independent 5-Star Review)
Extending Independence With Dignity
Best medical device
I fell 2 months ago and broke my left femur. I was so lucky to have been wearing my Kanega Watch. It saved me. It detected my fall and an ambulance was sent to my residence. I am grateful for my Kanega Watch
Connie S
AMAZING customer service
The watch works amazingly well, and the response is almost instant. The best is the AMAZING customer service. It is prompt, polite, professional, and attentive. I wouldn't have any other system, and I can wear it 24 hours a day.
Margaret F
Dedicated to the well-being of their customers
UnaliWear customer service is beyond excellent. The customer service I receive with my Kanega watch is the result of a company culture that is dedicated to the well-being of their customers.
Dave L
I've loved it since I put it on
My daughter-in-law found the Kanega watch for me. I've loved it since I put it on. I have Cerebral Palsy, and I live alone. Falls have become more frequent in recent years. Now that I have the watch, my kids are far less worried. I love keeping it on night and day, even in the shower.
Barb L
A real human checks in
It works about anywhere with both wifi and cellular — and Verizon service is included. A real human checks in as if by phone after a fall, a button press, or a voice command and false alarms are easy to dismiss. The company will also increase/decrease the sensitivity of any band on request.
Erick H
A great alternative to an Apple Watch
A great alternative to an Apple Watch designed specifically for seniors. I have been very pleased with my watch so far. It is a reasonably priced way to ensure that someone left alone for many hours in the day is still connected to the outside world to maintain his safety.
Jerry M
Operated just like my cell phone
I unfortunately live in a dead cell zone on the coast and both my landline and cell signals are degraded for various reasons. The Kanega watch was the only product I found that operated just like my cell phone – using my WiFi signal and home and cell service when I am out and about.
Elizabeth P
How can any one in 2023 not get this?
Did a lot of research including the Apple Watch which, while appealing, had a number of drawbacks including the fact it connects directly to 911 not a service. Finally found the Kanega which had distinct advantages.
1) Does not come off, just snap in the recharged batteries and snap the others in the charger.
2) Connects to a service not 911…
3) Waterproof. How can any one in 2023 not get this?
Michael S
Nice looking, easy to use, reliable for fall detection
After an exhaustive search for exactly the right thing for us, and something he would wear, we were happy to find the Kanega watch by UnaliWear… Nice looking, easy to use, reliable for fall detection, and comfortable to wear! And the customer service is amazing.
Ann O
Greater confidence in the product
My mother has had one fall since having the watch. The watch detected the fall. Fortunately she was not seriously hurt and we didn't have to get help but it brought her, and us greater confidence in the product.
Kevin W
I really love my Kanega Watch
I really love my Kanega Watch. I never have to take it off, which is really comforting, and I don't have to look like an old person with an alert device around my neck.
Richard S
Life saviour
My 93 year old father wandered into the garage at 2:30 am. one night. The lights went out and he fell. Thank goodness he was wearing his Kanega Watch. We immediately received a call that he had fallen.
Linda J
Ten stars
I had tried another Medical Alert device, but it only worked within my property line and was expensive for what it did (or didn't) do. I sent it back and spent the next several years looking into other devices.
Carole H
Best medical device
I looked for a long time for a medical device that was not a necklace. This Kanega Watch works great and the best part is the staff. **************** is awesome, best I have seen anyway. They truly care about your situation and your experience.
Cynthia D
The Kanega Watch Offers Unmatched 24/7 Peace of Mind
Patented "quick-swap" rechargeable battery system ensures you never have to remove your Kanega Watch to charge.

Works out of the box—all set up is done prior to shipping.
Works independently – no need to pair with a cell phone, base station, pendant or any other device.
Goes where you go, inside (including the shower) and outside the home with GPS.
Automatically switches from WiFi (home) to cellular (outside), for reliable connectivity everywhere.

Your Kanega Watch comes included with nationwide Verizon cellular coverage at no additional cost.

Everything is included in our plans—all equipment, services, taxes and shipping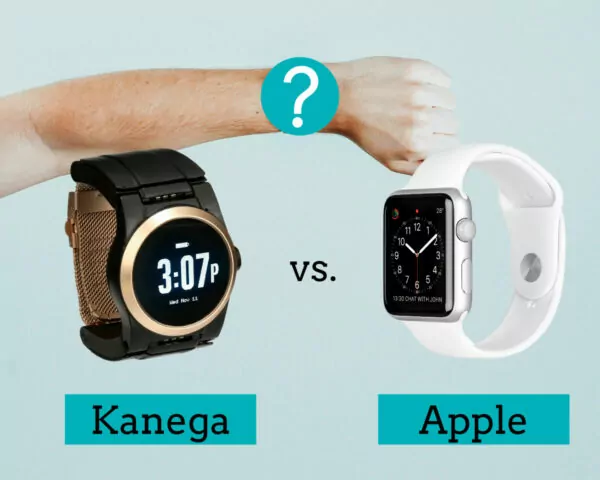 Click here
to learn more about how the Kanega Watch compares to the Apple Watch as a medical alert device.
How the Kanega Watch Works in an Emergency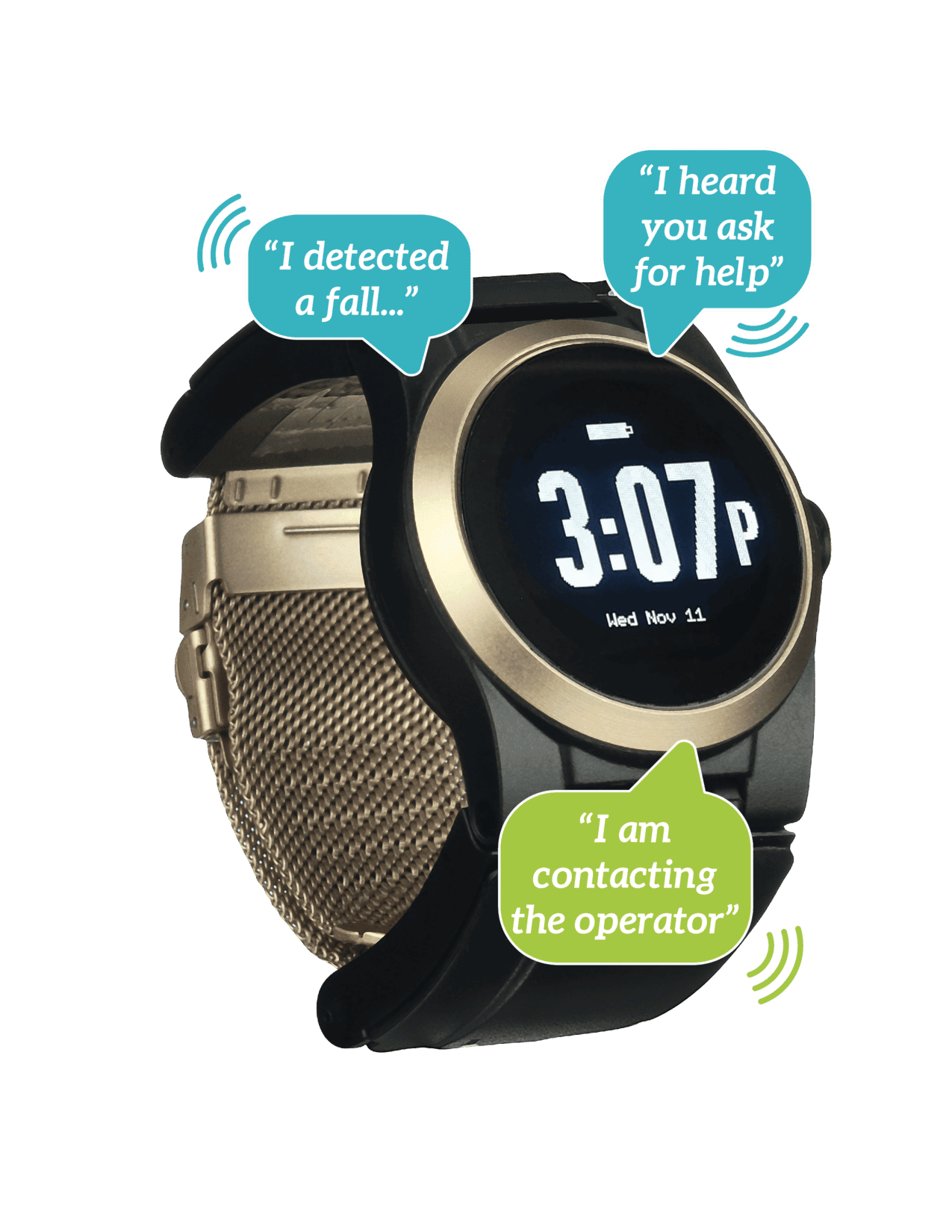 Immediately connects to a US-based response operator 24/7/365 who knows your name, address, location, emergency contacts and other key info in your account.

Alerts the operator (even if you can't press or speak) who will promptly reach out to your emergency contacts and can dispatch emergency services to your GPS location.

Your response operator is trained to quickly determine and engage the appropriate support needed – ambulance, fire, police or simply contacting a family member or neighbor. Your stand-by assistance is always there.
Designed specifically to extend independence with dignity
White-on-black display with maximum contrast supporting macular degeneration, glaucoma, and yellowing of vision.
Internal safety back-up battery provides GPS location and 15 minutes on the phone with medical operator, even if the battery pods are dislodged.
Medication reminders that are easy to manage and adjust.
Waterproof – so you can safely wear it in the shower.
Non-stigmatizing – looks and works like a regular watch.
Engineered from the ground up in collaboration with real people and their real-life needs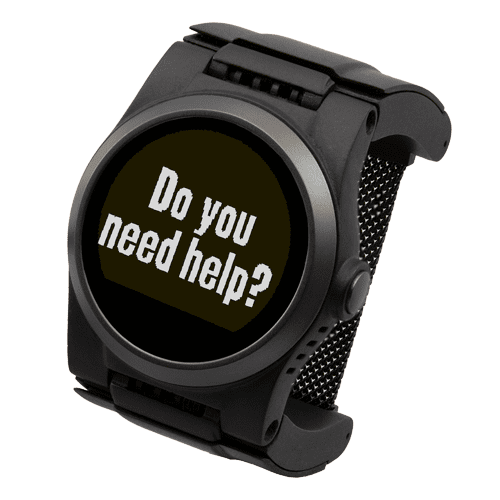 Patented battery system – so you NEVER have to take it off to charge at night when most falls occur.
Speech interface, not touch – touch doesn't work well for many seniors.
Our patented fall detection learns what movements are normal for you.
Fake crown button is a cleverly disguised "help" button.
Directly connected to a LIVE emergency operator who is a trained professional and understands your medical needs. You get help wherever you are, even if you can't ask for it.
360 VIEW
Click and drag on image to spin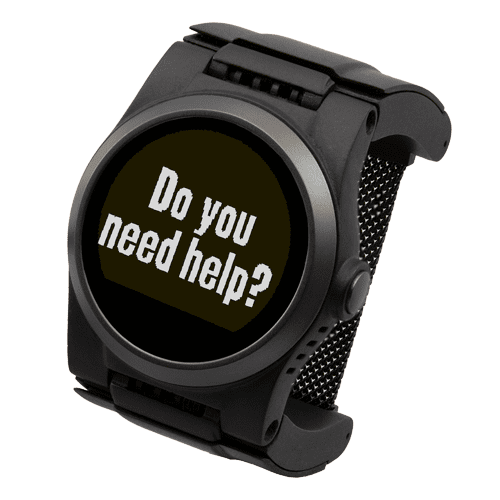 The first all-in-one, voice-controlled device designed to keep you connected, independent, active, and safe.
30-Day Money Back Guarantee and No Contract
Call us at +1-888-343-1513, or enter your info below and we will call you. PLUS, you'll get our Free Kanega Watch Brochure.
* UnaliWear takes your privacy very seriously. We will never share or sell your information; and will only call you once as a courtesy if you provide us your phone number above.