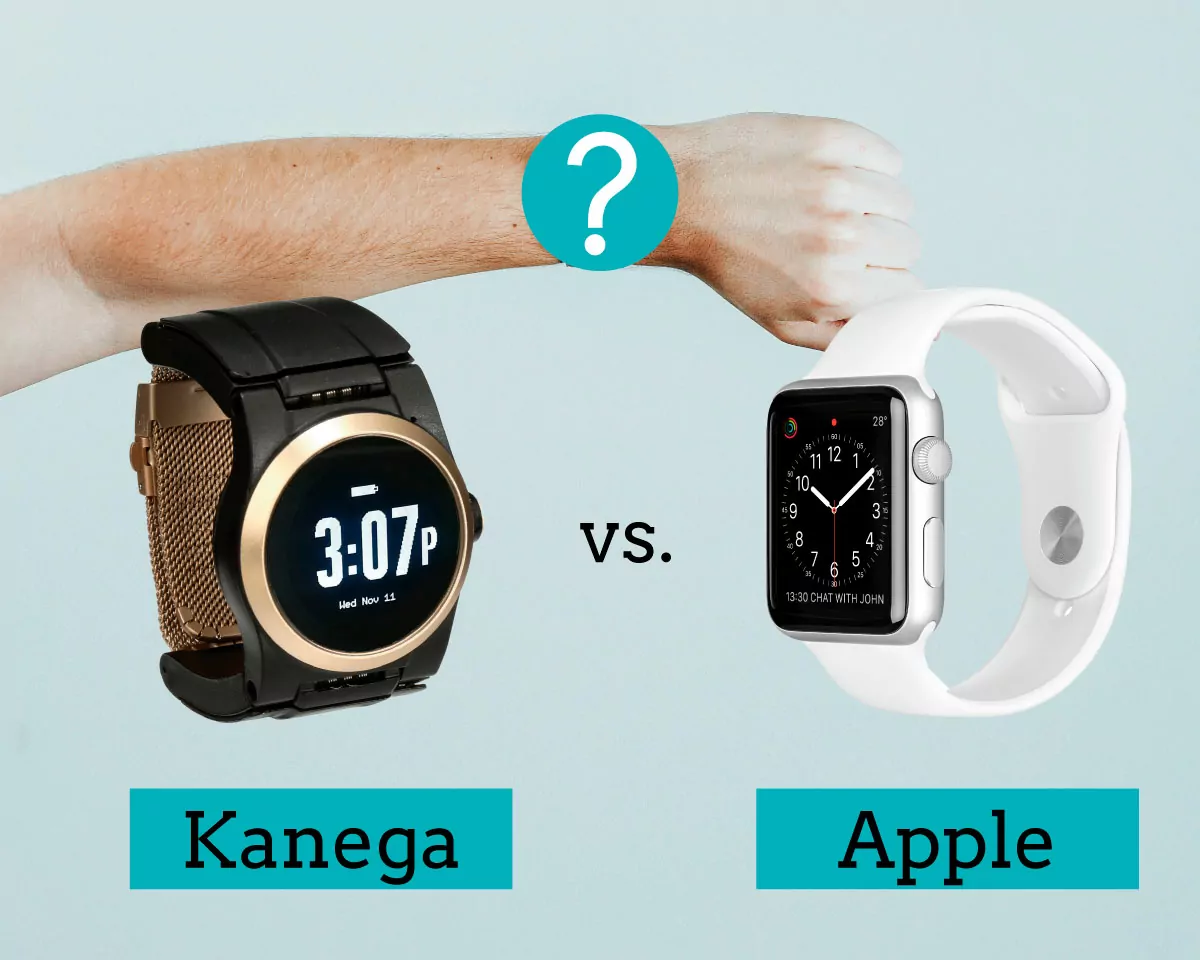 10 Reasons Why
the Kanega Watch Beats the Apple Watch as a Medical Alert Device
We've heard a lot about the fall detection capability of the Apple Watch. But with other players making watches specifically designed for fall detection, how does the Apple Watch actually stack up? Not as well as you might think!
When people think "fall detection watch," the Apple Watch is often the first, or perhaps even the only, brand that comes to mind. But while the Apple Watch is wonderful at what it was designed to be (a smartphone in a watch), is it the best option when it comes to fall detection in a watch? Let's look at some of the key differences between the Apple Watch and the Kanega Watch and then you decide.
The Kanega Watch provides access to emergency response operators.


With the Kanega Watch, you get 24/7/365 connection to Trained Care Specialists within a US-based TMA 5-Diamond and UL Certified monitoring center. They can help with a variety of problems ranging from the mundane (like being locked out of your house or getting lost) to more serious medical emergencies. When a fall is detected, the Apple Watch connects directly to 911 and notifies your provided emergency contacts. However, Apple does not have response staff, and many people would rather their initial communication be with a response operator who can offer both emergency and non-emergency services.
The Kanega Watch has a much longer battery life.

The Apple Watch battery lasts up to 18 hours if it's not used to excess, but the Kanega Watch battery can last twice as long (or more). That's a big difference! How does the Kanega Watch achieve this feat? The Kanega Watch has more power – two removable rechargeable batteries easily fitted into the band, and an internal safety battery inside the watch housing. With this longer battery life, the Kanega Watch is designed to stay on your wrist 24/7 – without ever having to be removed to charge and always ready to detect a fall (or just provide standby assistance, as needed).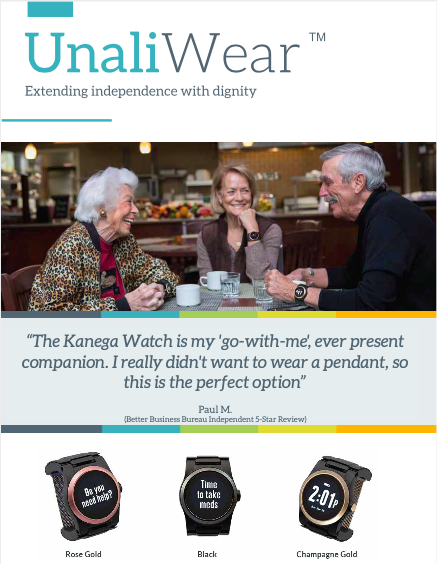 The Kanega Watch is not a phone or a mini-computer.

The Kanega Watch was not created for dual use as a general smartphone. Why not? Because making phone calls drains battery life. A fall detection watch with a fully drained battery is unable to perform its core purpose. This focus on preserving battery life over adding smartphone features makes the Kanega Watch better able to perform its core purpose, for longer.
The Kanega Watch is simpler to use.


The Kanega Watch is a purpose-built fall detection watch. There is nothing to configure, no need to ensure fall detection is activated – that's already a part of the Kanega Watch's built-in functionality. While having a complex smartwatch that can do hundreds of different things might be great for some, having a watch that just has your safety as its sole focus is really appreciated and critical for many people. That makes the Kanega Watch a truly "smart" watch – it's "smart" because it ensures maximum protection for its wearers.
The Kanega Watch is an all-in-one independent medical alert device.

The Kanega Watch is an all-in-one device and does not require a smartphone or app to access or enable its life-saving features. By contrast, Apple Watch users can't access all of their device's potential medical alert features without also owning an iPhone. For example, one of the Apple Watch's most useful features, the medical id app, can only be set up and managed through the iPhone.
The Kanega Watch learns when a fall is not a fall.

The Kanega Watch's fall detection technology uses artificial intelligence that learns and adapts its responses to a user's movement over time. As it learns, it is better able to distinguish an atypical movement like a fall from a user doing sports or other regular activities. This patented cutting-edge technology results in fewer false fall positives the longer the watch is worn.  When it comes to fall detection Apple watch can not compete with the superior AI driven fall detection learning ability of the Kanega watch.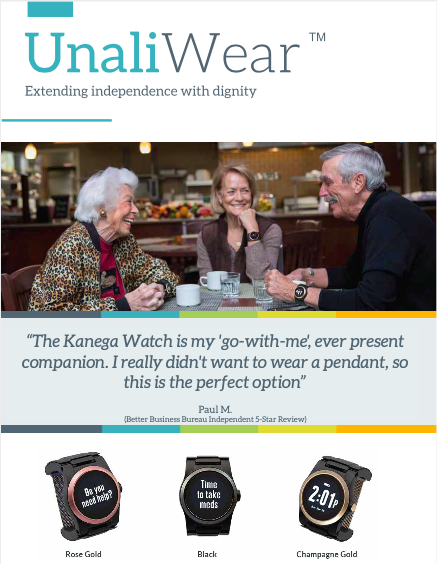 There is no multi-year cellular contract requirement for the Kanega Watch.

With the Apple Watch, you can either buy the Wi-Fi version, which requires you to have an iPhone nearby at all times, or you can purchase the cellular version, which requires you to sign a contract to get service. Either way, using the Apple Watch necessitates a cellular contract, and depending on the provider, that contract can mean a commitment of a year or more. The Kanega Watch has Wi-Fi and cellular technology built-in, and users can choose between an annual or monthly plan (both of which include cellular connectivity). Users can cancel their monthly or annual plan at any time, so a multi-year commitment is not necessary.
The Kanega Watch doesn't have to be removed to be recharged.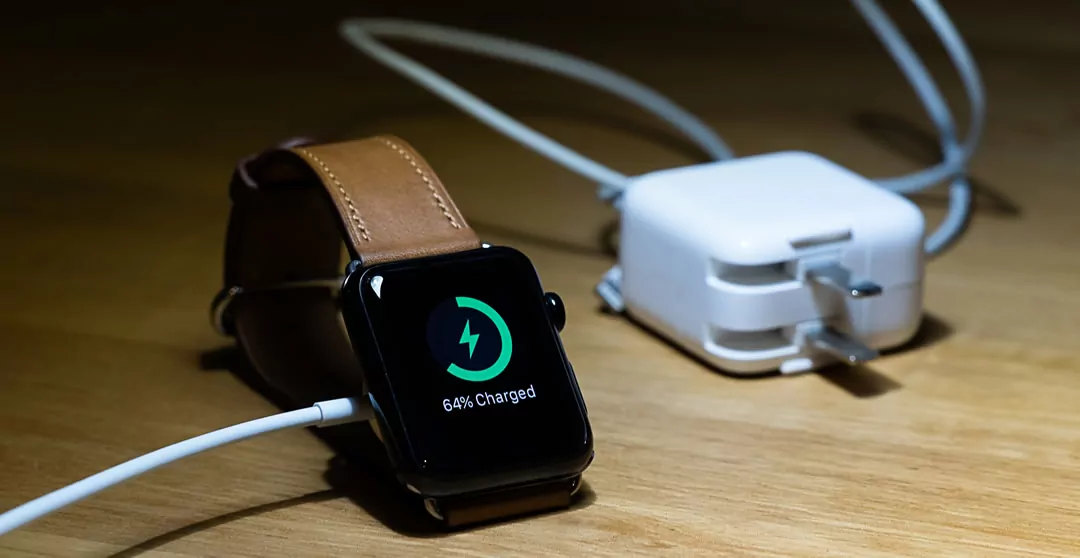 The Apple Watch needs to be removed to recharge. The Kanega Watch does not – for real 24/7 protection.

 
A medical alert device must be worn at all times to provide round-the-clock protection. The Kanega Watch's patented quick-swap battery system has two sets of batteries that can be swapped out without ever removing the watch. This enables the user to keep it on and enjoy 24 /7 coverage. The Apple Watch's 18-hour battery life, however, means the Apple Watch must be removed and charged daily, leaving the user unprotected as it recharges. Most Apple Watch users recharge their Apple Watch at night, which is also when many falls requiring emergency response happen.
UnaliWear gives you twice the amount of time to try the Kanega Watch.


When making such an important investment, it helps to have as much time as possible to see how the device will work for you. Apple gives its customers a 14-day return window. UnaliWear offers its Kanega Watch customers a more generous 30 days to try out its product, and its low return rate reflects a high level of customer satisfaction.
The Apple Watch is not a medical alert device.

An important thing to keep in mind is that the Apple Watch was not designed to be a medical alert device. It's an amazing piece of technology if you already own an iPhone and it includes some great health and fitness features. But, in the end, it's still a smartwatch with a fall detection option and not a dedicated medical alert device. By contrast, the Kanega Watch was designed for the sole purpose of keeping seniors (and other vulnerable populations) safe by providing both emergency and non-emergency support. Years of development have gone into ensuring that the device could meet all types of medical challenges, even down to reminding people to take their medications. The Kanega watch is the  best smartwatch for health monitoring in seniors.
Summary: The Apple Watch is great at what it is designed for – bringing some of the functionality of your smartphone to your wrist to prevent users from needing to have their phone out all the time. The Apple Watch can also be configured to provide some important safety services. But when it comes to providing focused and automatic fall detection and a medical alert support and intervention service, the Kanega Watch provides a far simpler, yet likely more effective, solution.

The "Best Apple watch for Seniors"?  Is a Kanega watch.
360 VIEW
Click and drag on image to spin
The first all-in-one, voice-controlled device designed to keep you connected, independent, active, and safe.
30-Day Money Back Guarantee and No Contract