Meet the
Kanega Watch
by UnaliWear
Traditional medical alert devices are worn grudgingly, if at all.  People want to feel protected, particularly from unexpected falls, but clunky and stigmatizing pendants are a huge turn off. 
The Kanega Watch is different. 
The Kanega Watch vs. other mobile medical alert alternatives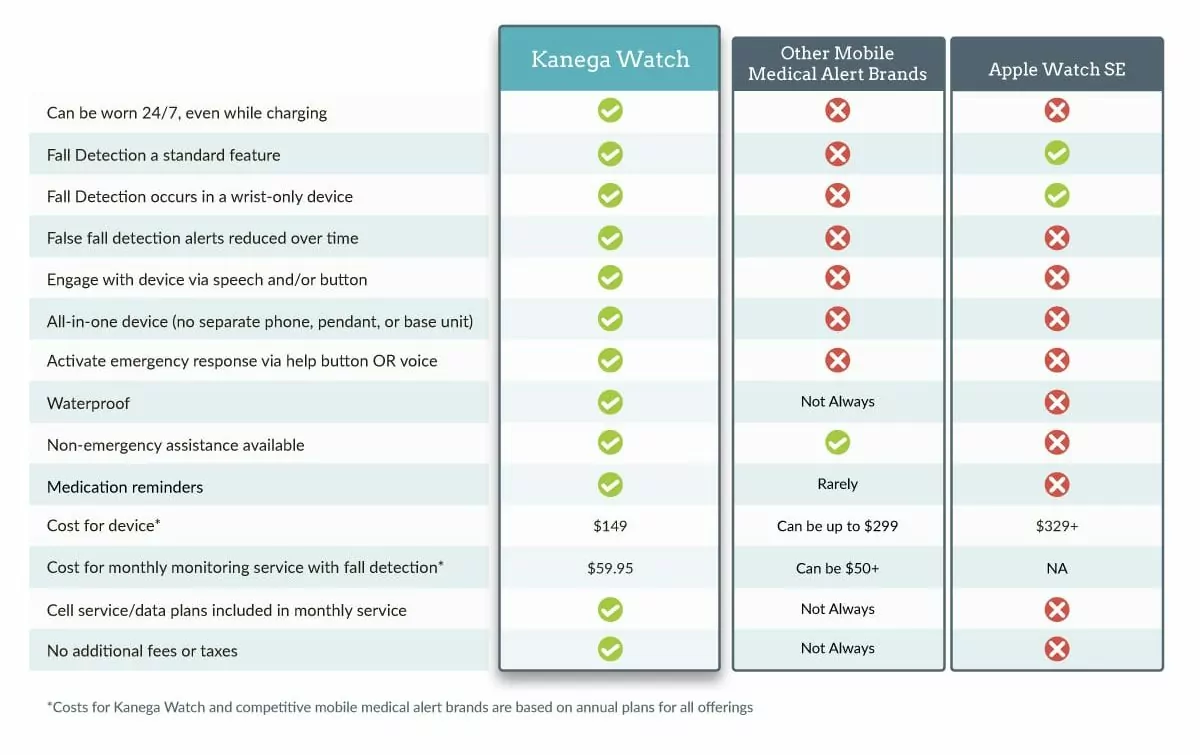 30-Day Risk Free Trial
The Kanega Watch in an Emergency

Press or Speak
Immediately connects to a US-based response operator 24/7/365 who knows your name, address, location, emergency contacts and other key info in your account.

Auto Fall Detection
Alerts the operator even when you can't press or speak, sending immediate emergency services.

Emergency Response
Your response operator is trained to quickly determine and engage the appropriate support needed – ambulance, fire, police or simply contacting a family member or neighbor. Your stand-by assistance is always there.
Designed specifically to extend independence with dignity
White-on-black display with maximum contrast supporting macular degeneration, glaucoma, and yellowing of vision.
Internal safety back-up battery provides GPS location and 15 minutes on the phone with medical operator, even if the battery pods are dislodged.
Medication reminders that are easy to manage and adjust.
Waterproof – so you can safely wear it in the shower. 
Non-stigmatizing – looks and works like a regular watch. 
Engineered from the ground up in collaboration with real people and their real-life needs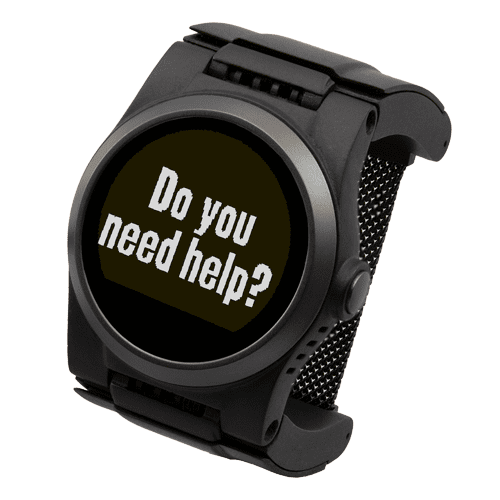 Patented battery system  – so you NEVER have to take it off to charge at night when most falls occur.
Speech interface, not touch – touch doesn't work well for many seniors. 
Our patented fall detection learns what movements are normal for you. 
Fake crown button is a cleverly disguised "help" button. 
Independent Customer Reviews

I am really happy that I discovered UnaliWear and its Kanega Watch. I wanted to feel protected from falls and other medical emergencies and this does that; and it's a watch! I like wearing a watch and it looks nice. I also really like the fact that I don't have to take it off to charge – that I can just swap out the batteries while it is still on my wrist, so I can wear it all the time. It was easy to buy and the customer service has been superb. I'd recommend this company and its watch to anybody looking for a device like this to keep them safe.

I have had my Kanega watch a short time, but am very pleased with a few features especially. Fortunately I have not had need for assistance, but at one point when I tripped in my home, the software assumed a fall had taken place (as indicated it would in the description of the benefits of the watch), notified me that help was being called, and cancelled the call immediately upon my negating the need for such assistance. I wanted a product that would allow me to move more freely and even travel with the security that I can summon assistance if needed. I am extremely pleased with the customer service provided by this company. My questions are answered promptly and courteously. I would highly recommend this device and this company.

I love my Kanega watch . I am an active person and it gives me a sense of security with the monitoring if I am alone and would need help. The watch is easy to use . I think it is great to wear all the time and gives me security day and night.
360 VIEW
Click and drag on image to spin
Meet the Kanega Watch
The first all-in-one, voice-controlled device designed to keep you connected, independent, active and safe.
30-Day Risk Free Trial