Fall Detection Medical Alert Watch

(no pendant required)
24/7 Emergency Response by US-based Agents
Press or Speak help activation
No need to remove to charge
Goes where you go with pinpoint GPS
Nationwide Verizon cellular coverage included
360 VIEW
Click and drag on image to spin
Meet the Kanega Watch
The first all-in-one, voice-controlled smart watch designed to keep you connected, independent, active, and safe. It goes everywhere you do, connects to a live emergency operator in seconds1, and you never have to take it off!
30-Day Risk Free Trial
(learn more)
How the Kanega Watch Works in an Emergency

Press or Speak
Immediately connects to a US-based response operator 24/7/365 who knows your name, address, location, emergency contacts and other key info in your account.

Auto Fall Detection
Alerts the operator even when you can't press or speak, sending immediate emergency services.

Emergency Response
Your response operator is trained to quickly determine and engage the appropriate support needed – ambulance, fire, police or simply contacting a family member or neighbor. Your stand-by assistance is always there.
Your Best Choice for Fall Detection, and so much more…..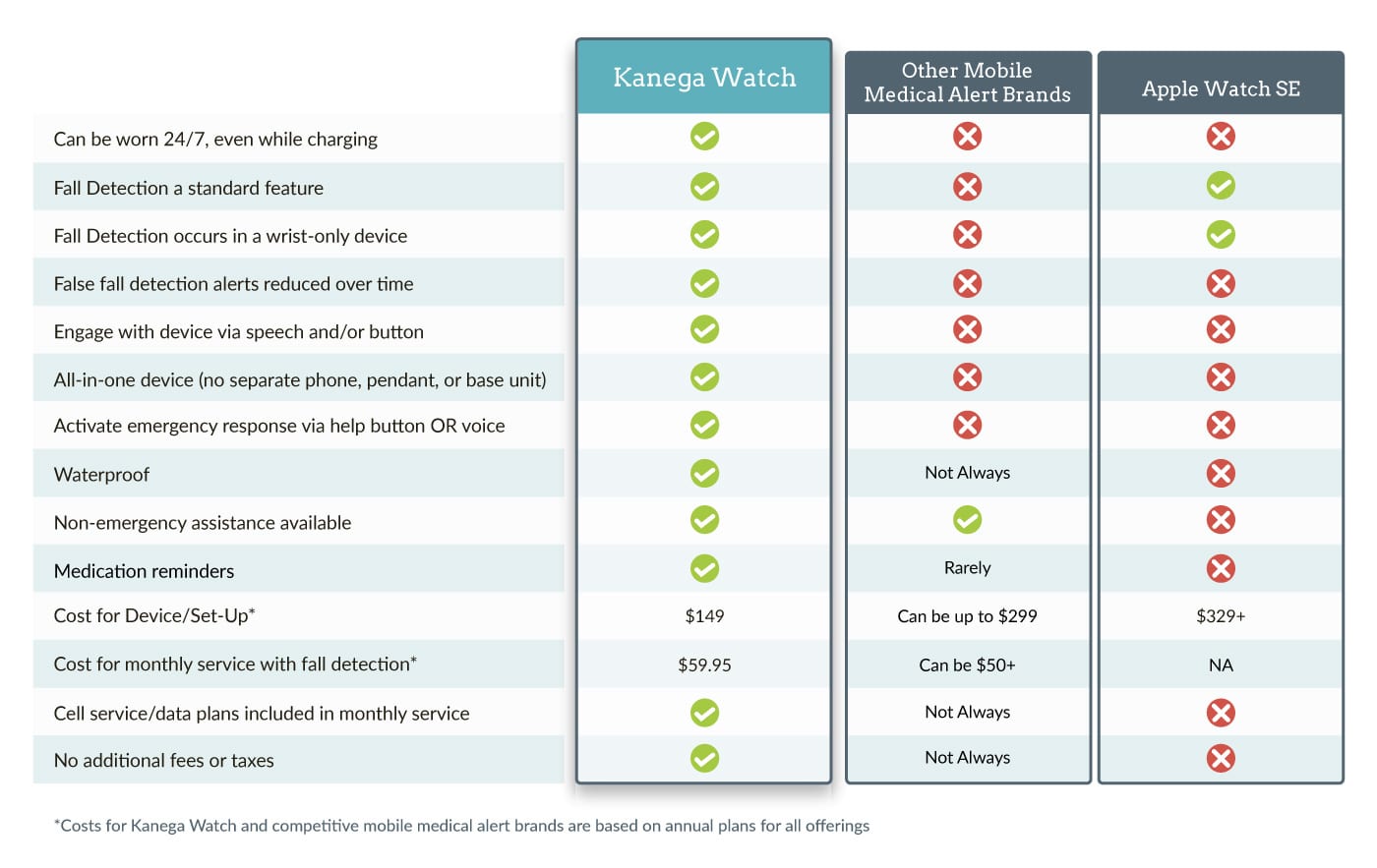 5-Star Review by
5-Star "Out of the Box" Review by Caregiving.com
Independent Customer Reviews

I am so pleased with my Kanega watch which is also an alert system, as well as with the people at Unali service and highly recommend both. I had used another alert system which required use of my cell phone nearby and I could only use pendant for fall detection and battery was hard to change. Kanega solved that and I feel free and secure.
Garnet P

I am really happy that I discovered UnaliWear and its Kanega Watch. I wanted to feel protected from falls and other medical emergencies and this does that; and it's a watch! I like wearing a watch and it looks nice. I also really like the fact that I don't have to take it off to charge - that I can just swap out the batteries while it is still on my wrist, so I can wear it all the time. It was easy to buy and the customer service has been superb. I'd recommend this company and its watch to anybody looking for a device like this to keep them safe.
Richard S

"I am extremely satisfied with Unaliwear and the Kanega watch. I've had it a few months now, and it does everything it is supposed to do perfectly. No more pendants for me. I change the batteries every morning and don't believe I've taken the watch off more than twice since I've had it. I strongly recommend that you try it."
Doug

The Kanega Watch is my 'go-with-me', ever present companion. I really didn't want to wear a pendant, so this is the perfect option. Nobody has to know I have a medical alert device on and I can still brag to people about the watch if I want to. And I love the fact that, in an emergency, the watch connects with a care specialist who knows my medical info and history - to share with the EMTs if that is necessary. Plus, UnaliWear has incredible customer service - from purchase to on-boarding to any questions or comments I have since I started wearing it. I would highly recommend this company and the Kanega Watch to anyone at risk of a fall or other emergencies.
Paul M
30-Day Risk Free Trial
(learn more)
Our mission is to extend your independence, with dignity The Kanega Watch Features

Fall Detection
Falls are the most common cause of injury and hospitalization for seniors.

Voice Controlled
Operate your Kanega Watch with your voice.

Emergency Response
The only watch that connects you directly to an emergency response operator.

Medication Reminders
More than 50% of older adults forget to take their medications -- or worse, take too much.

GPS Location Assistance
Our customers call us the "Wearable On-Star for People".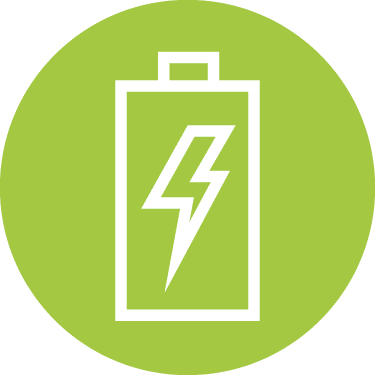 Never Take It Off To Charge
Patented quick-swap battery system means you never take it off to charge.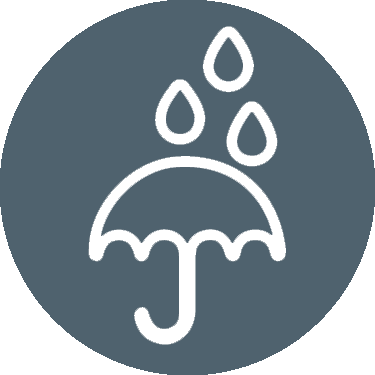 Waterproof
Waterproof to keep you safe in the shower or bath, where many falls occur2.

Fall Detection
The Kanega Watch contains patented technology to automatically detect falls. If the watch thinks you have fallen, it discreetly alerts you with buzzes and displays an emergency message. If you do not respond, it beeps and connects you to an emergency response operator, directly over your Kanega Watch.
Live demo of the Kanega Watch's fall detection functionality by Caregiving.com: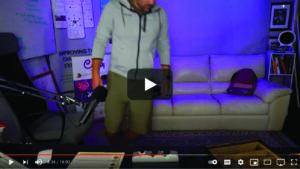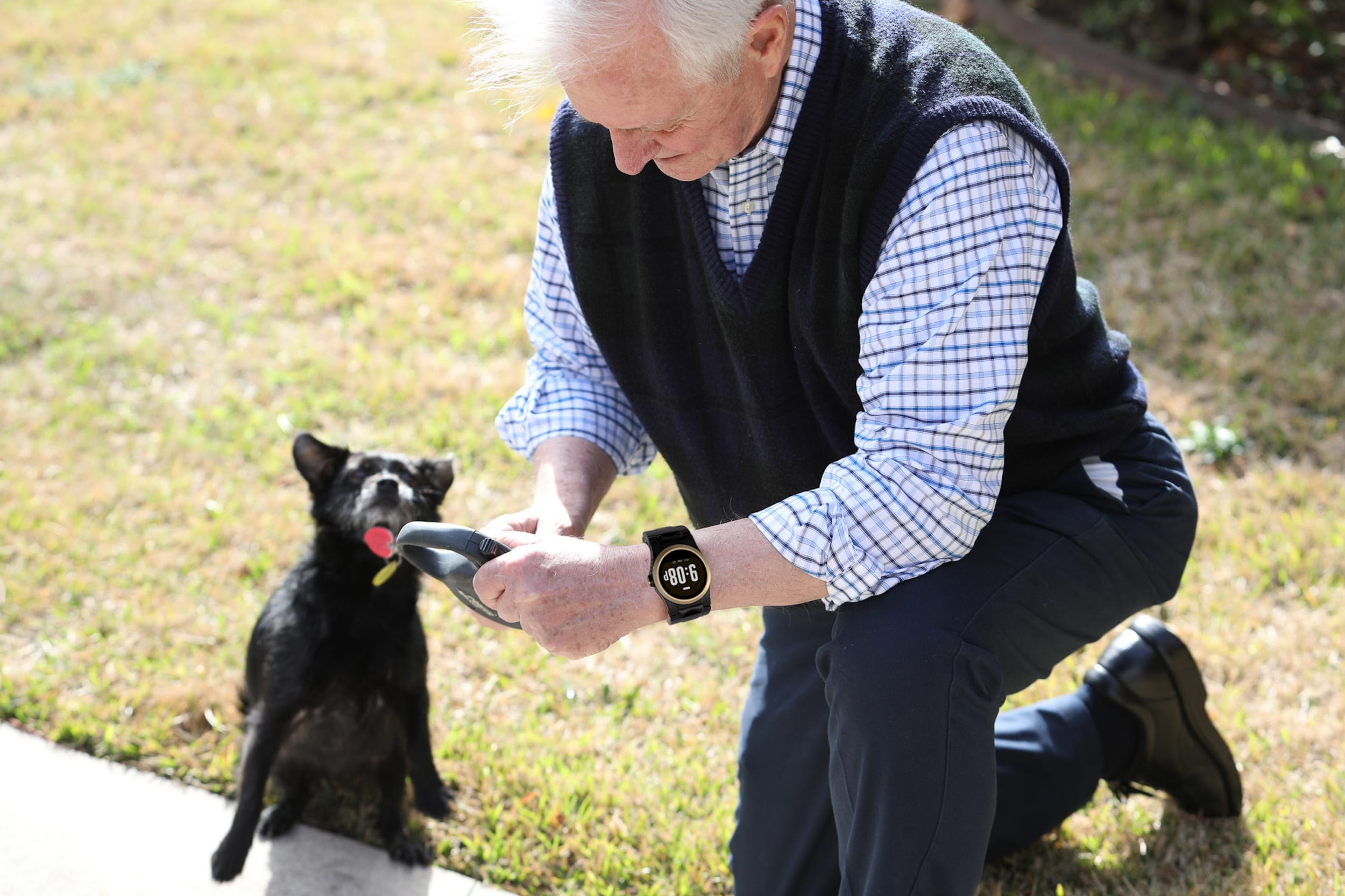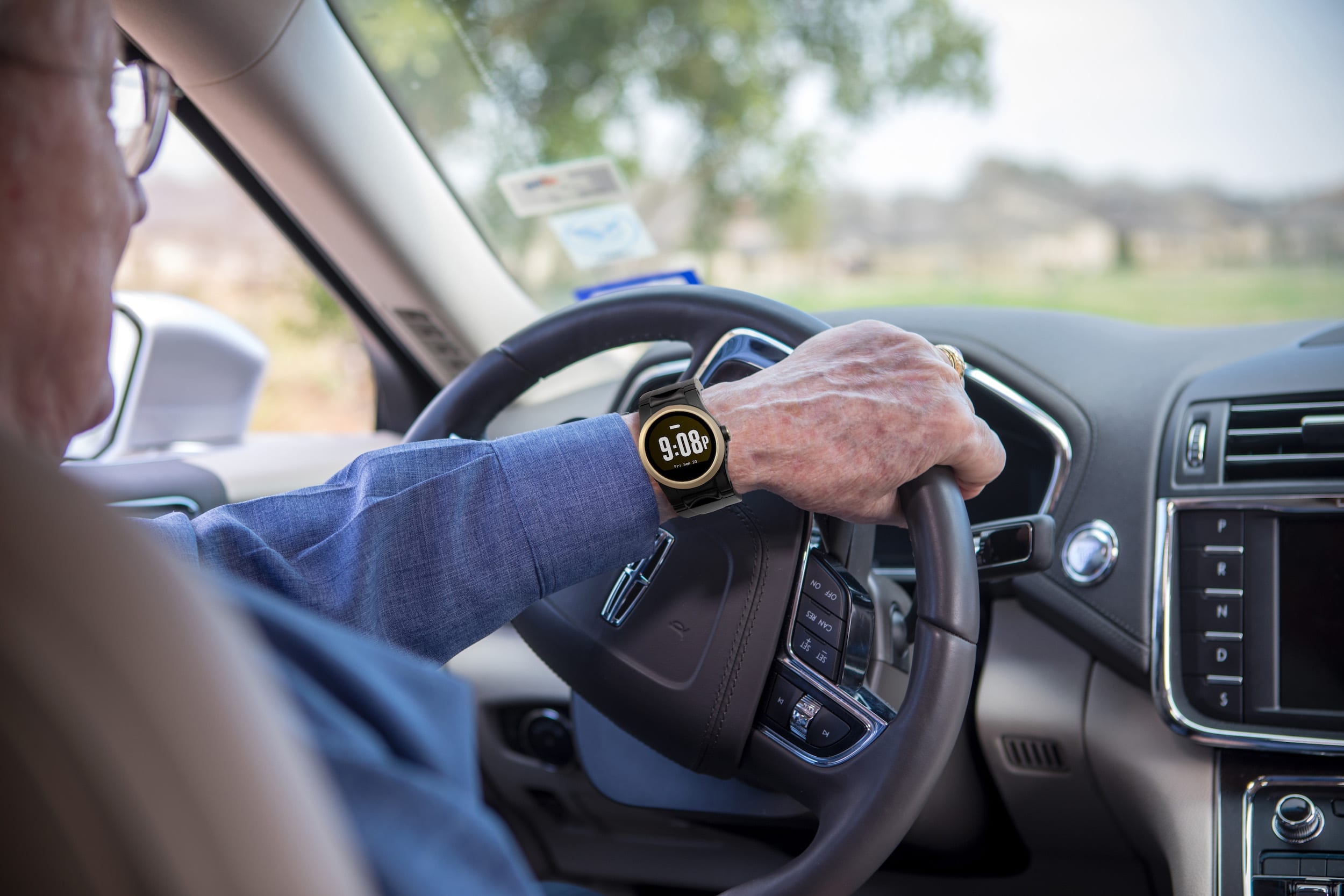 GPS Location Assistance
Venture out with confidence because with the Kanega Watch you're never lost. Our smart watch understands where you are and where you've been. If you fall or become immobile when you're out & about, the Kanega Watch will ask if you need help and get help to you.  We hope to soon add the ability to get you home if you are a bit disoriented!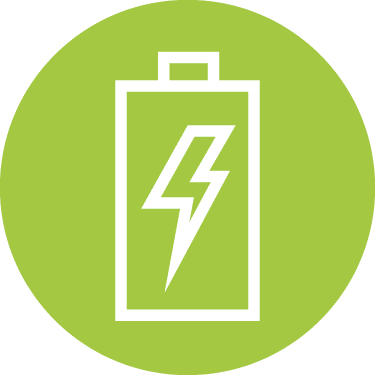 Never Take It Off To Charge
Unlike most smart watches, our patented battery system means you are protected 24/7. You never have to take your watch off to charge it, reducing the chances that you can't get help when needed. The Kanega Watch will automatically remind you when to change your batteries.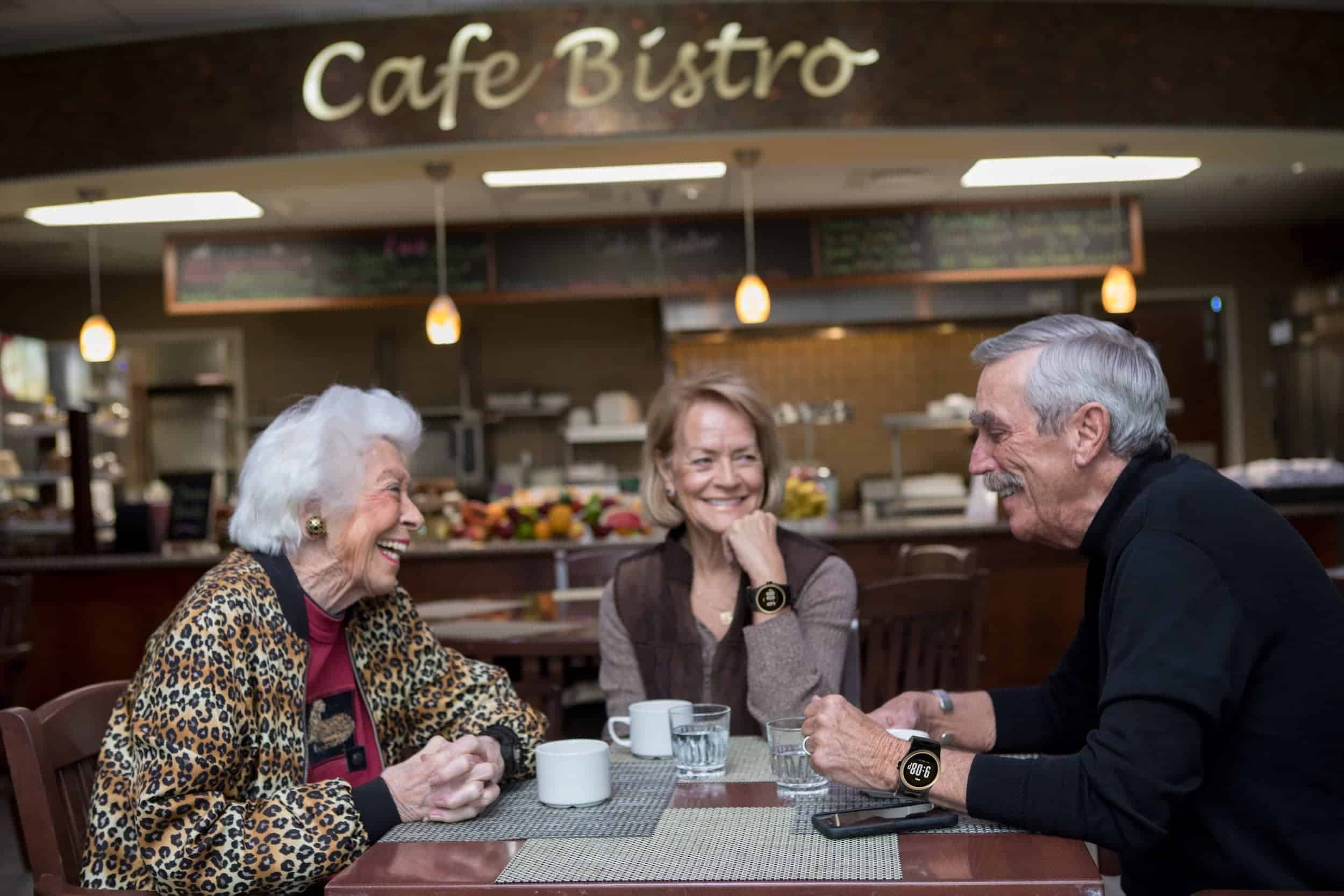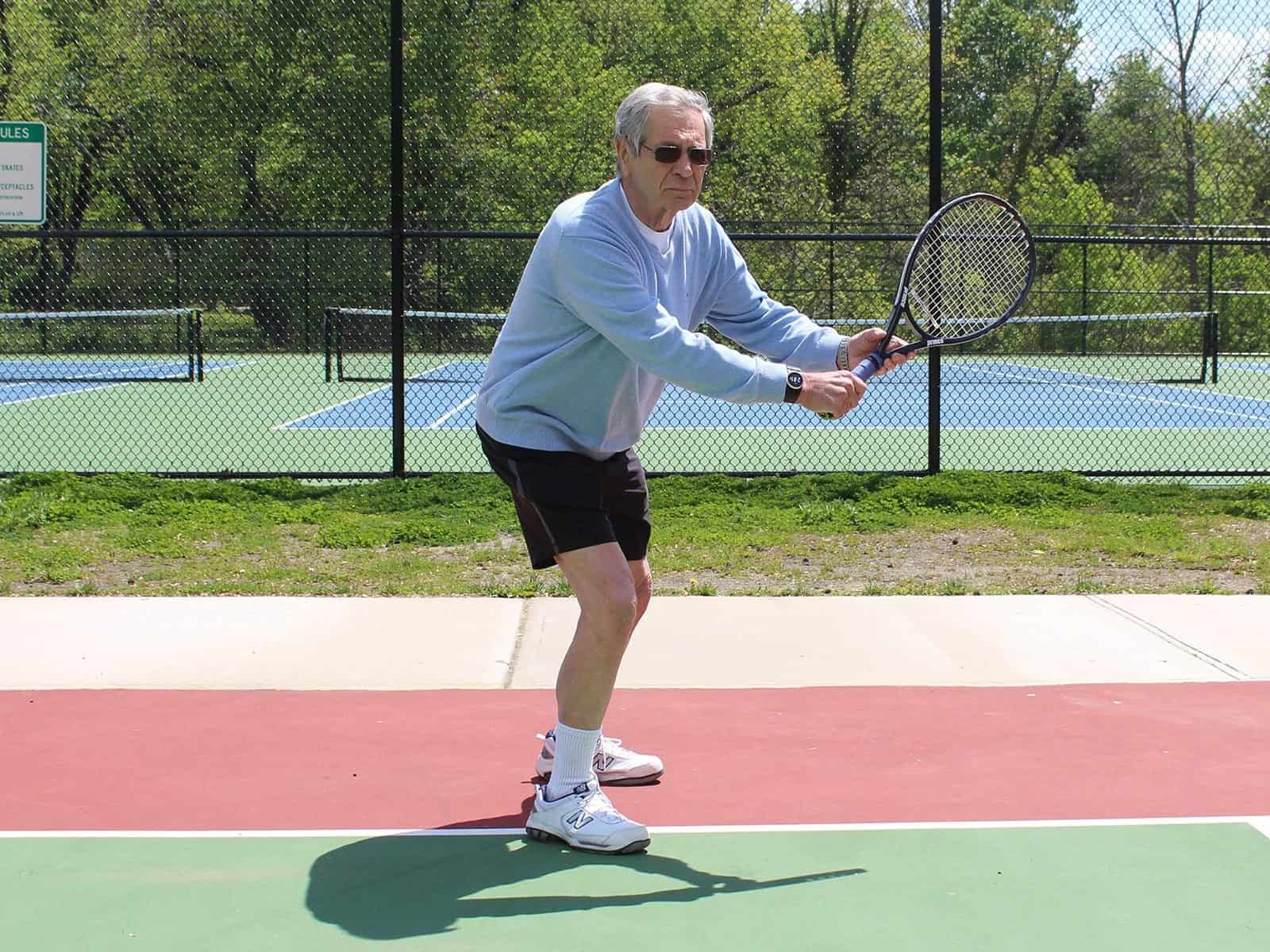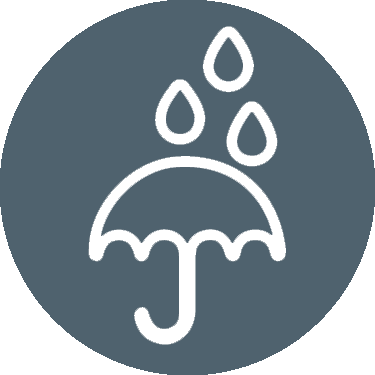 Waterproof
The Kanega Watch is with you when it matters most: at night or in the shower when most falls occur. The Kanega Watch goes everywhere you go -- even when playing your favorite sports of hiking where other devices often can't go.2
360 VIEW
Click and drag on image to spin
Meet the Kanega Watch
The first all-in-one, voice-controlled device designed to keep you connected, independent, active, and safe.
30-Day Risk Free Trial
(learn more)
1Coverage provided by the country's best 4G network.  Network or Wi-Fi accessibility required for most functionality. 
2The Kanega LTE watch has been tested to an IP67 Waterproof Rating to provide protection against running water. You can wear your watch while exercising, washing your hands, and in the shower, but immersive activities such as swimming are not recommended.