UnaliWear is in the news!
Explore all of our coverage and events
Featured Press Stories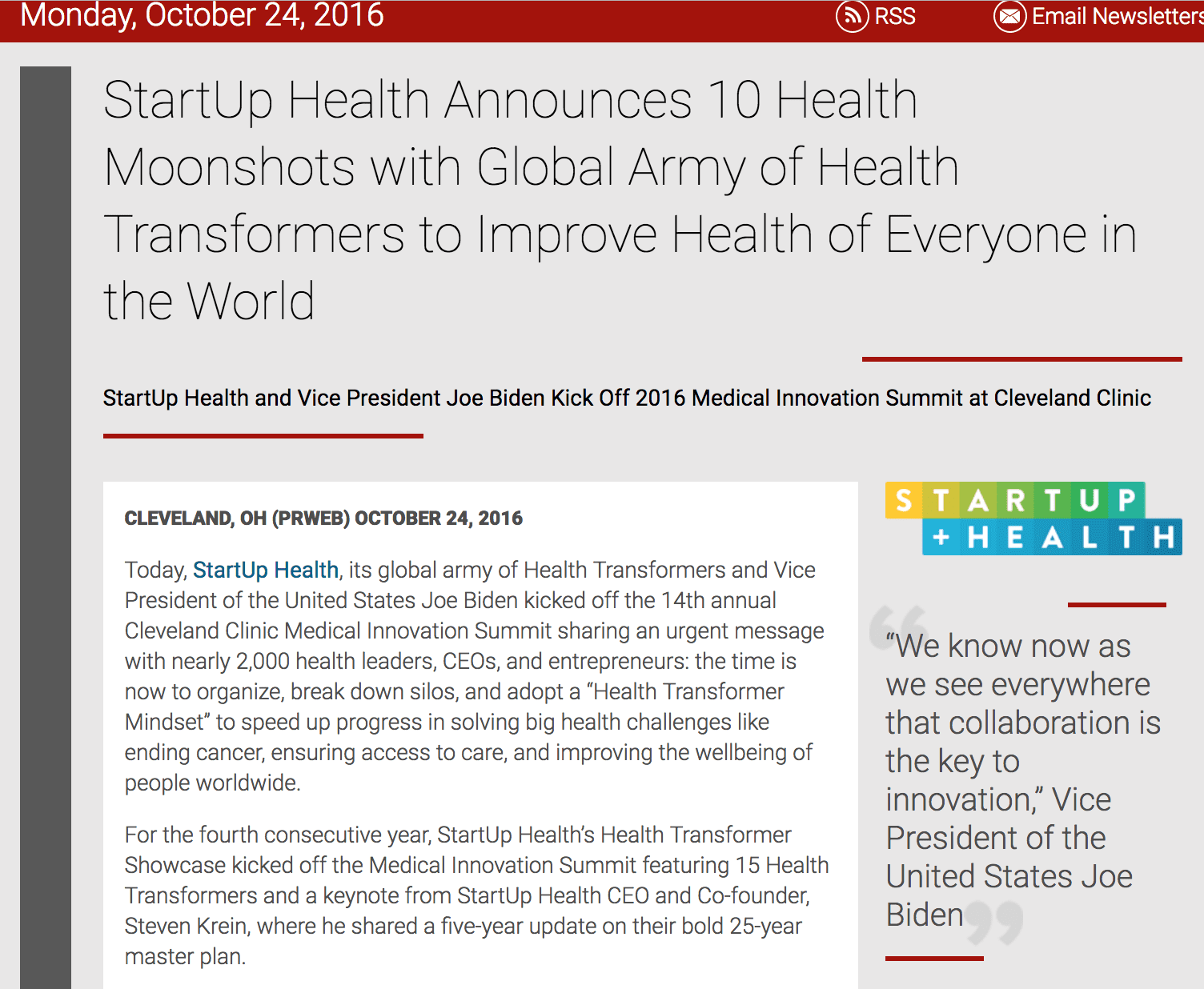 We would like to thank the team behind the article: "StartUp Health Announces 10 Health Moonshots with Global Army of Health Transformers to Improve Health of Everyone in the World" for mentioning our CEO, Jean Anne Booth.  Click here to read the full article. Today, StartUp Health, its global army of Health Transformers and Vice President of the United States Joe Biden kicked off the 14th annual Cleveland Clinic Medical Innovation Summit sharing an urgent message with nearly 2,000 health leaders, CEOs, and entrepreneurs: the time is now to organize, break down silos, and adopt a "Health Transformer Mindset" to speed up progress in solving big health challenges like ending cancer, ensuring access to care, and improving the wellbeing of people worldwide. For the fourth consecutive year, StartUp Health's Health Transformer Showcase kicked off the Medical Innovation Summit featuring 15 Health Transformers and a keynote from StartUp Health CEO and Co-founder, Steven Krein, where he shared a five-year update on their bold 25-year master plan. "In 2011, StartUp Health launched an ambitious movement to organize and support a global army of Health Transformers with the long-term goal of improving the health and wellbeing of everyone in the world," said Steven. "Over the past five years, we've organized thousands of entrepreneurs, innovators and organizations committed to transforming health. In addition to rapidly growing this global force, StartUp Health and our partners are investing in and focusing on 10 Health Moonshots, each which will impact billions of people." StartUp Health's army of Health Transformers and network is organized around 10 Health Moonshot themes, all of which are connected and integral to...
---
More Press
Thank you Austin Business Journal (ABJ) for mentioning UnaliWear in "Austin wearables startup secures more funding; inks production deal in China". When Austin venture capitalist Sara Brand wrapped up her $4.7 million capital raise in August for her debut investment fund, she knew instinctively she would reach out to Jean Anne Booth. A couple of phone calls and meetings later, Brand, founder of Austin's True Wealth Ventures, has just made her firm's first $500,000 investment in Booth's three-year-old Austin startup, UnaliWear, which has created the Kanega smart watch aimed at senior citizens who still live independently or people of any age with physical limitations. The full article is available here here:  http://www.bizjournals.com/bizwomen/news/profiles-strategies/2016/10/austin-these-two-women-think-its-time-for-a-smart.html Also, we would like to thank Sara Brand with True Wealth Ventures for helping UnaliWear extend dignity to seniors.... read more
Senior Wearables: The Kanega Watch:  Wearable technology is one of the biggest consumer trends of the past few years and one that seniors, in particular, can really stand to benefit from.    Wearables are, quite simply, technology you can wear. Some of the better known versions of wearable technology are the fitness trackers like the FitBit and Misfit that help people track basic health metrics and challenge themselves to do better over time. Senior wearables haven't gotten quite as much play in news stories, but many have been developed that provide handy solutions to problems familiar to many seniors. From a wearable GPS that makes it easy for loved ones to find a senior with dementia that wanders off, to a wearable device for seniors with cardiac issues that keeps a constant monitor on the heart to give wearers an early warning before serious problems, senior wearables are quite literally saving lives. Seniors now have yet one more wearable coming on to the market that's been designed with them in mind. A New Smartwatch for Seniors The Kanega watch from UnaliWear is a smartwatch designed specifically to meet the needs of seniors. The company recognized a number of needs seniors have that a well-designed wearable could solve and went straight to potential consumers to raise funding to create it. Many months and a successful Kickstarter campaign later, and the smartwatch for seniors is in development and on track to be released in early 2017. The founder of UnaliWear, Jean Anne Booth, is a serial entrepreneur with enough experience in the tech space to know that her idea for the... read more
PITTSBURGH (NewsRadio 1020 KDKA) – UnaliWear is a new company that aims to give seniors and others who need assistance an independent lifestyle through the use of a wearable, emergency alert watch. CEO Jean Anne Booth tells the "KDKA Morning News" she got the idea for the "Kanega" watch when "my mom was turning 80 and she just wasn't willing to wear today's emergency alert products because they're ugly." "They're limited to use in the home unless you have a smartphone and my mom doesn't have one and doesn't want one," she said. "And that big help button [on most emergency alert products] is socially stigmatizing." Booth says they "Unali" is Cherokee for "friend," and "Kanega" is Cherokee for "speak." "So we're the friend that speaks to you," said Booth. The Kanega watch is designed for seniors, as well as "any independent but vulnerable person." "People with Parkinson's [disease], MS, Lou Gehrig's [disease], Down syndrome, blind people and disabled vets," said Booth. The watch reminds users when it is time to take their medications, helps protect the user from wandering by providing voice activated directions and sends alerts when the user falls. Booth adds the watch operates by voice command and "learns the wearers lifestyle." "That allows us to do preemptive support to help [our users]," Booth said. Pre-orders are being taken now at http://www.unaliwear.com/ and it is expected to hit the market in early 2017. Full story appeared on:... read more
UnaliWear was featured in Built in Austin in the "21 Austin Health Tech Startups You Should Know" article.  You can read the full article here: http://www.builtinaustin.com/blog/austin-healthtech-startups-to-know. The intersection of health and technology is a challenging and rewarding place to start a business. In Austin, it's a busy intersection indeed. Intrepid healthtech startups have been among the city's most high-profile innovators and most successful fundraisers, leveraging world-class learning institutions, bustling hospitals, and a highly collaborative tech circuit. Here is what they said about UnaliWear: What they do: UnaliWear's main product is the Kanega Watch, a component of a larger personal emergency response system. The watch is voice-controlled, nearly indestructible, and remarkably stylish for a product of its sort — it looks like a regular watch, just a little bit cooler. How it's changing healthtech: This company applies its knowledge of the buzzing AI and wearables fields to help vulnerable users live and thrive with independence and dignity. The world is taking notice — UnaliWear is already one of Austin's biggest fundraisers this year. Founded: 2014 Funding: $3.4M Here is the list of the other 20 companies featured: SocialCare by Health Symmetric ESO Athlete Builder Conceivable eRelevance DaVincian RxWiki Chiron Health Hospitalists Now Aunt Bertha Athenahealth Afoundria Pristine Cariloop ePatientFinder NarrativeDx EverlyWell Visible Lumeris Patient IO You can read the full article here:... read more
SAN FRANCISCO, Calif. – Mobile health apps might not be helping those who really need them, according to a recent study from the University of California San Francisco. The study was conducted with 26 patients at The Priscilla Chan and Mark Zuckerberg San Francisco General Hospital and Trauma Center who were diagnosed with diabetes or depression, or who serve as caregivers for elderly patients. Researchers tested some of the highest-rated mobile apps that have been created to help individuals manage their medical concerns. Three themes emerged: lack of confidence with technology, frustration with design features and navigation, and interest in having technology to support their self-management. Those results are not surprising, said Jean Anne Booth, CEO and founder of UnaliWear, maker of the soon-to-be-launched Kanega watch. "There's a big difference between usability and desire to use," Booth said. "Your average app developer won't be able to put himself in the shoes of the user unless he spends a lot of time talking to those users." Participants in the study were given condition-specific tasks, such as entering a blood glucose value into a diabetes app. Data entry required significant effort for all of the apps tested, and participants struggled with that task. For 51 of 101 tasks, participants were unable to complete data entry without assistance. They had more trouble when it came to retrieving data from the apps, completing only 43% of those tasks across all 11 apps without assistance. The study found that none of the apps tested appeared to have simple interfaces with large buttons and easy-to-follow instructions and navigation, which would make them more appealing to... read more
If you can't explain your startup to a child, you may not have better luck pitching to investors. If you can't explain your business model to kids, then you're not ready for prime time in front of investors. That's the idea behind Pitch-a-Kid, a new Austin, Texas-based organization that puts kids in the judge's seat as they analyze adult entrepreneurs' pitches and choose the strongest pitch of the bunch. Kids learn critical thinking and problem-solving skills, while local entrepreneurs get an unfiltered assessment of where their pitch falls short and what parts might be confusing. "Kids at the elementary school age are very honest and are comfortable asking questions about things they don't understand," says Mike Millard, who started Pitch-A-Kid earlier this year with his daughter Audrey, who's currently in fourth grade. "For the entrepreneurs it really pushes them to use simple, straightforward, and understandable language." At Pitch-a-Kid's second pitch session on July 30 at Austin's Capital Factory, there were five judges and a judge coordinator ranging in age from fourth to twelfth grade. Millard's daughter acted as an alternate judge and microphone runner. Stakes weren't that high for the six presenters because there is no cash prize for winning. However, each had only five minutes to present their plan before the judges started asking challenging questions including: How much money do you make? How do customers find you? How old were you when you started your business? and, Why do you do this? Presenters also had to field questions from the audience. Photos: courtesy of Pitch-a-Kid 1. TELL STORIES. The judges awarded top honors to Zuby Onwuta's pitch for... read more
Jean Anne Booth was featured and listen to the complete audio clip here at the On The Dot Woman Website. It's a great day to be a woman! Melinda Garvey here as your voice, with the mission to give women everywhere a place to be heard and tell their stories. We'd love to hear from you! FIRST THOUGHT: Independence and Dignity at Any Age When I think about what I was like even five years ago, I cringe. I thought I knew it all. Now, I better understand the word "wisdom." As we age, we are bound to learn a lot and endure really brutal experiences that shape our mindsets. (FYI: There's more to being an adult than briefcases and power suits.) Today, talk to that colleague or acquaintance who's older than you. You might just learn a lot. WOMEN IN NUMBERS: 35 Million Dementia is a term used to describe the mental decline that is severe enough to interfere with everyday life, such as memory loss. Did you know dementia affects nearly 35 million people worldwide, and there are 7.7 million new cases every year? Two mental-health professors who have long studied dementia note that keeping the brain active is a key component in fighting mental decline, and that men who marry intelligent women can reduce their chance of dementia. So, gentlemen, get out there and converse with some smart ladies. It's likely to keep your mental wheels turning. WOMAN TO WATCH: Jean Anne Booth, CEO of UnaliWear Y'all, I'm super excited to tell you about one of the most groundbreaking entrepreneurs of our time and the winner... read more
This article was originally published as "5 stylish safety devices that reclaim independence" on Mashable on April 2, 2016 "I've fallen and I can't get up!" You might remember this phrase from the dramatic and poorly produced medical alert infomercials targeted towards the elderly in the 1980s and '90s. While the statement lives on in pop culture history, the device itself won't be remembered for its fashion-forward aesthetic. The bulky beige remote control hung from customers' necks by a cheesy ball chain necklace — a look any stylish client would hesitate to wear. Thankfully, the wearable tech market has come a long way since then. As safety continues to be a concern for women, children, senior citizens, people of different abilities, and those at risk, many are longing for stylish and discrete gadgets to help keep them safe. Below are five sleek safety alert wearables even the most fashionable accessory connoisseurs would love. … Accessory lovers without smartphones can stay connected, too. The Kanega watch, which some compare to a personal On-Star system, bypasses both Bluetooth and apps, sending users directly to a LifeAssist operator. The product is activated through voice commands instead of buttons or sensors. Users speak to the device like they would to Apple's Siri, addressing it by a specific name the wearer designates. The watch promises to send medication reminders as well as dosage instructions. If clients forget how to find their way home when taking a walk, no problem. Kanega will provide turn-by-turn directions. After a successful Kickstarter campaign the company expects to begin shipping the Kanega to customers this summer. … Read Full... read more
As chief innovation officer for AARP, the advocacy group for older adults, Terry Bradwell feels duty bound to try all the high- tech stuff marketed to seniors these days. So, at 54, he's an enthusiastic early adopter of the smart home. His Florida home is outfitted with cameras outside and all manner of sensors and connected devices inside. When he's traveling, he can use an app on his phone to see what the front door camera sees. If someone rings the bell, he can answer it, with his voice seeming to come from inside. The same AT&T system controls the home's heating and cooling systems, raises and lowers the window shades, and is capable of detecting a flood. Bradwell's lawn is smart too: it knows when it needs to sprinkle itself. And that's just the big stuff. Bradwell also has a sensor on his keys that beeps when he searches for it on his phone. He has Amazon's Echo, a voice-controlled internet hub and speaker that can do everything from play music to order an Uber ride or a pizza. And he's tested Sen.se Mother, a set of motion sensors you can put on your pill containers or water bottles (to track their use) — or even in a willing spouse's pocket (so you get a text when she walks in the door). Right now, Bradwell admits that a lot of this technology is more complicated to set up and use than many older adults might like. But make no mistake, he and other experts say: if your dream is to age in place — to stay safe, healthy, secure,... read more
Originally Featured on Networked India, Smart Seniors, Smart Tech – 10 Intelligent Apps and Devices For The Elderly – Included UnaliWear's Watch as a top 10 must for Seniors Under Smart Seniors Whoever said technology is exclusively for the physically young and thriving?! If you're a youth at heart and you thrive on fun things, then these 10 instances of modern mobile technology are the very things for you. Technology has something in it for everyone, and for seniors it has 'special somethings.' The world just showed its support for seniors' safety on Elder Abuse Awareness Day on the 15th of this month, and now, we welcome you to these 10 devices and mobile apps that care not for your age but your well-being, and will transform your 'old' age into a 'smart' age of entertaining and nifty technology. .. The Kanega Watch: When you're a senior, the fewer buttons you have to deal with, the better. For this very purpose, the Kanega watch was created. This stylish, voice-controlled smartwatch is the very first of its kind, and has absolutely no buttons to tick you off! All you have to do to get this device going, is talk to it. According to UnaliWear – the gadget's parent firm – it is waterproof, does not depend on a connection to a home-based system or smartphone, and provides on-call emergency assistance – anytime, anywhere. Even more astonishing is the fact that the watch can even provide assistance when you can't ask for it! .. Read More... read more
Jean Anne reveals how to navigate Austin's Startup Scene as CEO of UnaliWear and Kanega Watch in this case study featured in Austin Monthly. Case Studies The Product: ​Kanega Watch  The founder: Jean Anne Booth The idea: A medical alert device that older adults will actually want to use.  Biggest challenge: "Getting funding, both for a physical product—it's more expensive than an app—and a product for the aging demographic," says Booth.  Wise words: "To succeed as an entrepreneur, you must be able to listen to feedback that isn't aligned with what you want," says Booth, "while staying tenacious about where you want to go."  The Kanega Watch exists because Jean Anne Booth was worried about her mom. Joan Hall had just turned 80 and life couldn't be better.   A former semi-pro model, she kept a busy social calendar while living on her own in San Antonio. But there were things that concerned her daughter, like when Hall took her pulmonary medicine incorrectly. Booth tackled the situation with the pragmatism characteristic of her background as an engineer and CEO. "I knew Mom was getting a little frail, so I researched the options," she says. But when she showed Hall a spreadsheet of alert devices, "She looked at me with her teeth clenched and said, 'Don't get that for me. I'm not wearing it.'"  Booth couldn't blame her. From big red "HELP" buttons to clunky plastic bracelets, medical alert devices for the elderly are embarrassing, inconvenient and ugly. Since Booth is a serial entrepreneur who has been a founder or leading member of three startups, two of which sold to Texas Instruments and Apple,... read more
Thank you Tech Radar for Mentioning our UnaliWear Kanega Watch.  The following is an excerpt from the original article: Most of us think of wearables in terms of smartwatches and fitness trackers, gadgets that can help us be fitter and more efficient. But for some people, they're far more important than that – these wearables are the difference between dependency and freedom. They might not hit the headlines as often as the shiny new wrist jewellery from Apple and Samsung, but wearables for older people are fast becoming an essential way to keep them safe, healthy and happy. It's early days yet, but already we're seeing some impressive technological innovation to improve the lives of those later in life – and the even better news is they'll be easy enough for even the most averse of technophobes to use safely and happily. Everyone wants their loved ones to be safe, and in the case of older relatives and friends, the risks are more worrying, especially if you live a distance away. Wearables can help keep these people safe by connecting them to relatives or the emergency services in the event of an accident – even if they're unable to call for help themselves. The Kickstarter-funded KanegaWatch from UnaliWear – available for sale later this year – can detect falls and long periods of non-movement and raise the alarm. Working through voice control and without the need for a connected smartphone, the watch notices if the wearer has been immobile for a while and asks if they're OK. If there's no response, the device can contact designated people or the... read more
It's a known fact that reaching a significantly older age is increasingly likely with the kinds of technology and medicine available today. In the UK, the over 65 population grew from 9.4 million in 2011 to 10.4 million, encompassing 16% of the population. Similar growth has been reported in the US. With an aging population, and many of us living for much longer comes the responsibility involved in caring for elderly relatives and loved ones – and your children caring for you once you've hit retirement age. It's something you want to think about, and it can be a touchy subject. But like it or not, we're all going to be at that stage in life meaning a helping hand wouldn't hurt. While residential care is an option, many people want to maintain their independence rather than feel like they're being treated as an elderly person. Home care is another option, but not everyone wants a stranger visiting regularly. That's where a growing trend of wearable devices aimed specifically at the older, independent market can help. The global wearable medical devices market is estimated at $3.3 billion as of 2015, yet in contrast, $6.3 billion has been spent in the US alone on glucose test strips for blood sugar level monitoring. Diabetes is just one of the chronic diseases that the elderly frequently suffer from with 80% of senior citizens suffering from one or more chronic diseases. It's also a field in which wearables are slowly building respectability with projects such as arecent trial by the NHS paving the way. Other concerns include dementia and numerous cognitive issues. A simple... read more
Many fitness and other wearable devices are targeted at young, able consumers with plenty of disposable income and apparently low expectations of functionality for such products. Many of these products are not well suited to the needs of the elderly, where complex user interfaces and small displays pose significant barriers to their use. UnaliWear is a company that is building a watch for seniors from the ground up. The company name is derived from the Cherokee word "Unalii" for "friend." Their smartwatch for seniors is called "Kanega," which is Cherokee for "speak," which gives a strong indication of how it is intended to work. Using the spoken word as the primary user interface, the watch will allow users to do everything from ask for directions home to call for help in an emergency. The watch will provide medication reminders, fall detection, and more. Most important, it looks like a normal watch, so there is no stigma of wearing an assistive device. But in order to do this, it needs to understand what is being said. The developers are building their own database of sound samples of different key phrases, and they are asking for your help. You can go to their website and read a series of phrases into your computer or mobile device. It takes about five minutes, and you'll be helping create a smartwatch that seniors can simply talk to when they need... read more
Thank you, Austin Woman and Austin Women in Technology.  Jean Anne Booth is a finalist for Women-led Business of the Year in the 2016 Woman's Way Awards. There were 215+ applications and we were selected by a committee comprised of some of Austin's most respected and influential women.   We were nominated by the Austin Women in Technology. Please join us in celebrating this honor and find out who will be taking home the awards in each category on June 9th at One World Theatre.   For more information about attending the evening event, please click here! From all of us at UnaliWear, we look forward to seeing you and celebrating the amazing women in this community together!   Lastly, congratulations to all our fellow Women colleagues who are finalists as... read more
Let's get together
We'll be attending the d.health Summit on June 6 in Boston. Come meet with us!
---