UnaliWear is in the news!
Explore all of our coverage and events
Featured Press Stories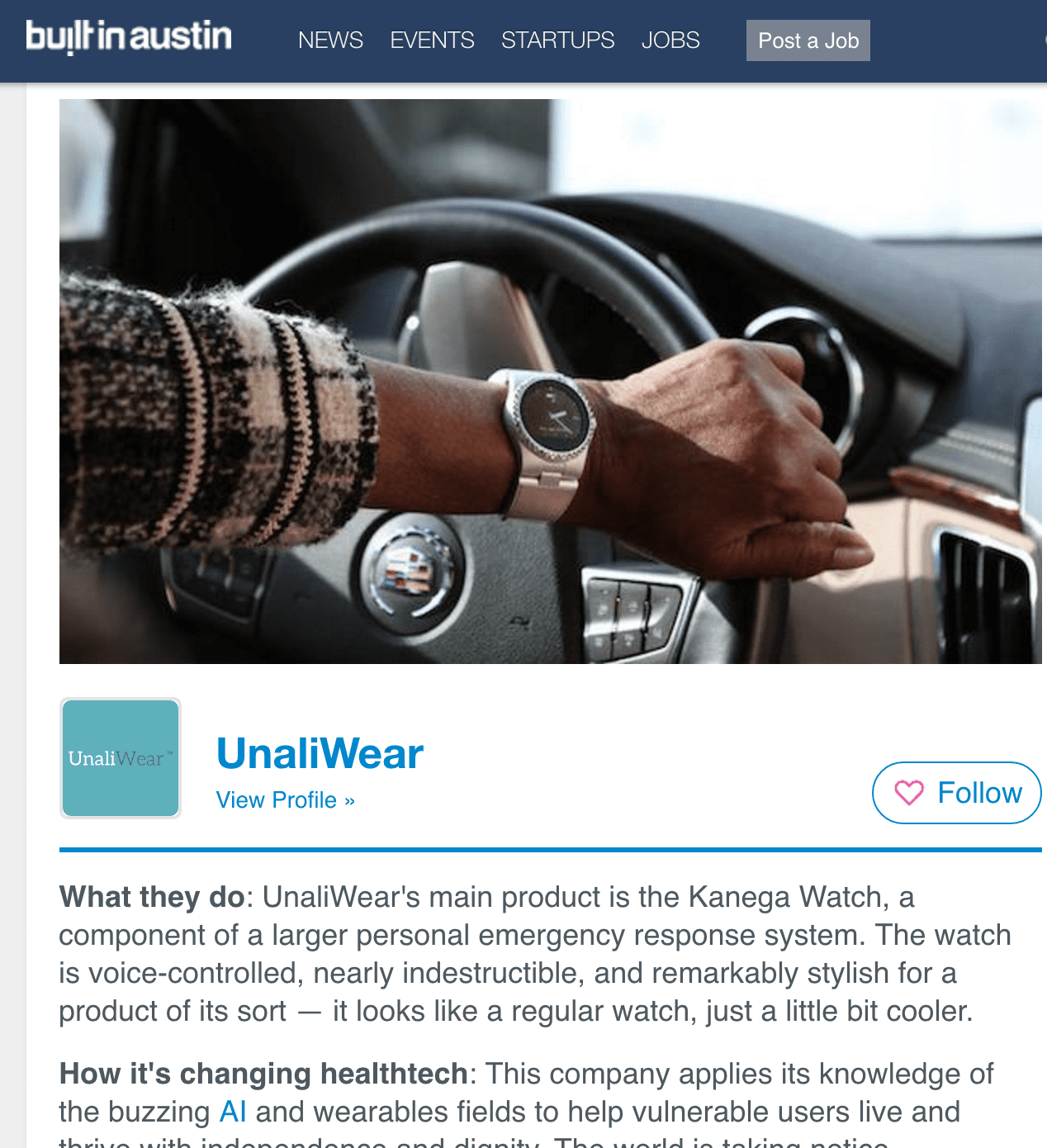 UnaliWear was featured in Built in Austin in the "21 Austin Health Tech Startups You Should Know" article.  You can read the full article here: http://www.builtinaustin.com/blog/austin-healthtech-startups-to-know. The intersection of health and technology is a challenging and rewarding place to start a business. In Austin, it's a busy intersection indeed. Intrepid healthtech startups have been among the city's most high-profile innovators and most successful fundraisers, leveraging world-class learning institutions, bustling hospitals, and a highly collaborative tech circuit. Here is what they said about UnaliWear: What they do: UnaliWear's main product is the Kanega Watch, a component of a larger personal emergency response system. The watch is voice-controlled, nearly indestructible, and remarkably stylish for a product of its sort — it looks like a regular watch, just a little bit cooler. How it's changing healthtech: This company applies its knowledge of the buzzing AI and wearables fields to help vulnerable users live and thrive with independence and dignity. The world is taking notice — UnaliWear is already one of Austin's biggest fundraisers this year. Founded: 2014 Funding: $3.4M Here is the list of the other 20 companies featured: SocialCare by Health Symmetric ESO Athlete Builder Conceivable eRelevance DaVincian RxWiki Chiron Health Hospitalists Now Aunt Bertha Athenahealth Afoundria Pristine Cariloop ePatientFinder NarrativeDx EverlyWell Visible Lumeris Patient IO You can read the full article here:...
---
More Press
UnaliWear's Kanega watch aims to assuage the social stigma attached medical help devices by creating smartwatch that looks, well, like a normal watch. The watch provides support, medication reminders, directions and more, and doesn't require a smartphone.
read more
"If you're going to build that level of technology, China is really the place to go for cost effectiveness and capability for what it is we're doing," said Booth, the CEO of four-employee UnaliWear, a two-year-old firm in Austin, Texas.
read more
"I wanted to build something that my mother and I both would be willing to wear to remain safe as we age."–UnaliWear CEO, Jean Anne Booth
read more
UnaliWear, of Austin, Texas, won the best-in-category award for Health and Wearables.
read more
Described as a "Wearable OnStar for Seniors," their Kanega smart watch performs the usual functions of a timepiece —including a face that shows time, date and reminders in text large enough to read without glasses, with voice recognition that responds to a name the owner gives it, enabling voice-initiated requests for GPS directions."
read more
A Consilient Conversation – UnaliWear: How Wearables Extend Independence with Dignity to Seniors
read more
Although I got to demo and learn about numerous items, there were…extremely innovative products that stood out to me. The first was a smart watch developed by a Unaliwear for the elderly called the Kanega.
read more
Thank you Smithsonian for mentioning our UnaliWear Kanega Watch Kickstarter Campaign and read more about UnaliWear Kanega Watch Kickstarter Campaign here:  UnaliWear Kanega Watches for Seniors: Wearable OnStar (Goal: $100,000 Raised: $110,154 on Kickstarter) UnaliWear watches are for senior citizens who would like extra support in case of emergencies, but scorn the stigma of "I've fallen, and I can't get up!" medical alarms. Activated through voice control, the watches respond when a wearer has a question or emergency—contacting LifeAssist, offering reminders on medication and providing directions home. While not exactly fashionable, the accessory is getting sleeker with each model. Jean Anne Booth, an Austin entrepreneur who sold her previous two ventures to Apple and Texas Instruments, developed the product to help take care of her aging mother and aunt. Read more:... read more
The Kanega is a great example of a product that lies outside of 'Never Land'- first and foremost, it literally acts as a watch and tells time. But more metaphorically, it is an exciting, buzz-worthy product with real technology to back it up.
read more
Booth successfully raised $800,000 from angel investors and she has exceeded her $100,000 goal on a Kickstarter campaign with six days left to go. So far, she has raised $104,000. She plans to deliver the Kickstarter devices early next year and have her watch on the consumer market by next summer. The watches cost $299 for an activation fee and $35 to $80 a month for monitoring services.
read more
Although it looks and functions like a watch, it offers life-saving features to the wearer without provoking a loss of independence and dignity.
read more
The product is focused on extending independence with dignity for millions of vulnerable seniors and judging by recent pledges (over $100K raised), they are well on their way to doing just that.
read more
TheStreet's Scott Gamm took a quick tour of the SXSW-hosted health and medical technology exposition and interviewed Jean Anne Booth from UnaliWear.
read more
Austin entrepreneur Jean Anne Booth has big plans for South by Southwest as her company rolls out a smartwatch geared to helping seniors keep track of their health.
read more
Let's get together
Come see us at SXSW!
March 9-13, Austin, TX.
---
Let's get together
We'll be at SXSW!
Come see UnaliWear's CEO, Jean Anne Booth, as she appears in the sessions "Venture Funding Hits a  Lull, Now What?" and Women's Health Panel SXSW on "Women Revolutionizing Digital Health."
Contact us at info@unaliwear.com if you'll be at SXSW and would like to get together.