UnaliWear is in the news!
Explore all of our coverage and events
Featured Press Stories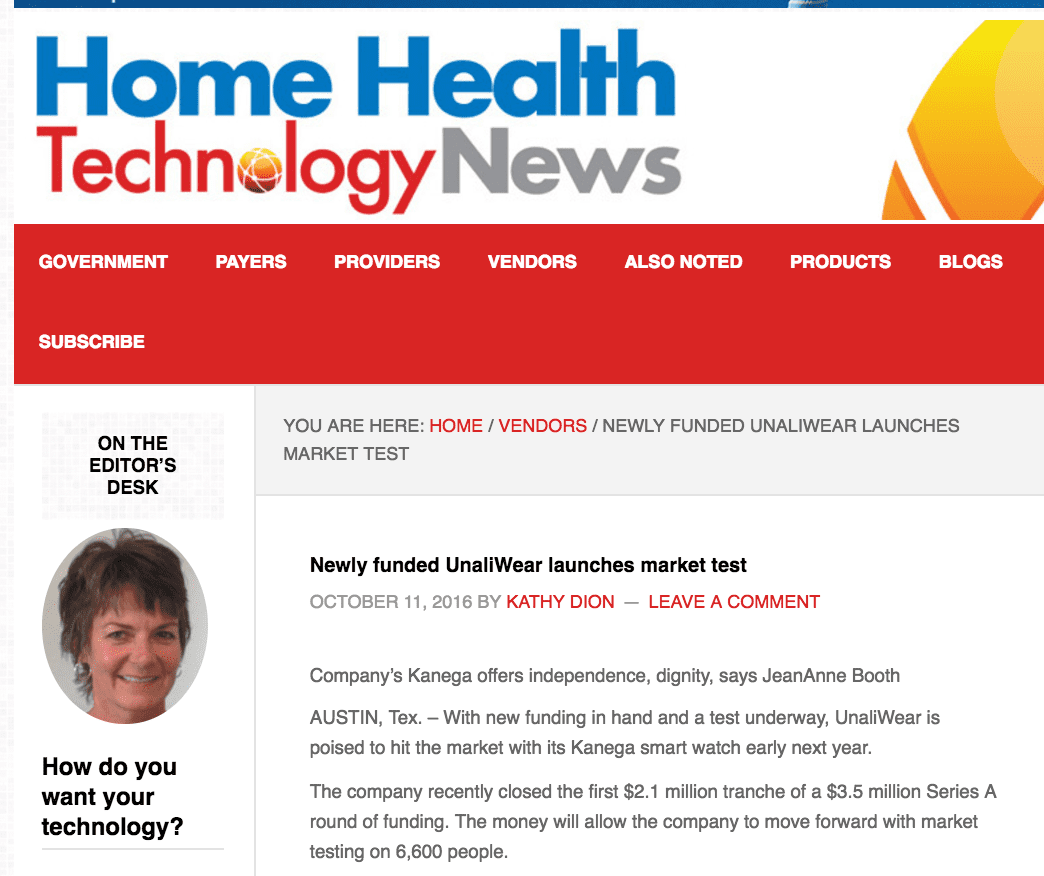 Company's Kanega offers independence, dignity, says JeanAnne Booth. AUSTIN, Tex. – With new funding in hand and a test underway, UnaliWear is poised to hit the market with its Kanega smart watch early next year. The company recently closed the first $2.1 million tranche of a $3.5 million Series A round of funding. The money will allow the company to move forward with market testing on 6,600 people. "Our first step is a 600-person user experience at the end of this month," said JeanAnne Booth, UnaliWear founder and CEO. The initial test for the Kanega will include participants in the United States aged 23 to 97. UnaliWear is targeting a large market for the Kanega—not just seniors, but people with Multiple Sclerosis, ALS, Parkinson's Disease and Down syndrome, blind people and disabled veterans. "When we talk about vulnerable populations, people tend to automatically think of senior citizens, but it's much broader than that," Booth said. Connected by an AT&T cellular network, the Kanega looks just like a traditional watch, and uses an easy speech interface rather than buttons or touch screens. It learns the wearer's lifestyle to provide predictive, pre-emptive support, such as directions home or notification of gait or speech changes that may be signs of a medical problem such as stroke. Booth developed the Kanega watch after her own mother wasn't willing to wear available emergency alert products because she didn't like the way they looked. "The big help button on most products is socially stigmatizing," Booth said. The Kanega also features a patent-pending battery system in the band so wearers don't need to take off the...
---
More Press
Thank you, HealthCare Texas 2016.  We appreciate the recognition for all the progress that Jean Anne Booth and the team has made to bringing the Kanega Watch to market and to extend independence with dignity for millions of vulnerable seniors. About HealthCare Texas The Texas Growth Capital Forum (TGCF) aligns late-stage venture capital growth investors with Texas-based technology companies seeking Series B or later funding. We achieve our mission by holding conferences which bring national venture capital investors to Texas to meet qualified growth company CEO's in 1-on-1 meetings over the course of the 2-day events. About UnaliWear Focus groups have called UnaliWear "OnStar for People" because we provide discreet support for falls, medication reminders, and a guard against wandering in a classically-styled watch that features an easy-to-use speech interface rather than buttons. Unlike traditional medical alert products, we work wherever you are, 24×7 – and unlike Apple Watch or Samsung Gear, we don't require a smart phone. Our naming derives from Cherokee: "Unalii" is "friend", and "Kanega" is "speak".   Read more about our team... read more
Austin-area startups in consumer packaged goods are riding a new wave of opportunity. In the first quarter of 2016, three local startups in the emerging sector each raised $3 million or more, according to a PricewaterhouseCoopers and National Venture Capital Association joint survey. The news for the sector — otherwise known as CPG industry — marked a bright spot in an otherwise tough report for Austin startups that saw a decline in investments. "Austin is just on fire right now in terms of the growth of the CPG industry," said Clayton Christopher, an Austin veteran of the consumer packaged goods sector who recently co-founded CAVU Venture Partners, which is focused food and beverage startups. "There is a lot of support." Overall, Austin companies drew $141 million in investments in the first quarter of 2016 — a 49 percent decline compared to the same period a year earlier. The report confirmed that Austin wasn't immune to global trends as venture capitalists slowed their enthusiasm, rattled by economic uncertainties and high valuations for unproven companies. Even so, industry veterans say the report also showed a relatively young sector bucking the trend as investors place increasing interest in businesses selling consumer goods. Three companies — hard cider maker Austin Eastciders, healthy snacks company Rhythm Superfoods and watchmaker UnaliWear — closed deals in the first quarter. "I think investors in this market have really gravitated" to consumer packaged goods, said David Smith, founder and CEO of High Brew Coffee, the fast-growing, cold-brew coffee company that announced its own funding round of $4 million this past week. The round was led by Christopher's... read more
Recently, CNBC mentioned Jean Anne and UnaliWear in a recent article featuring Iris Apefel. … Jean Anne Booth, CEO of UnaliWear, is also out to shake up wearables. A serial entrepreneur, Booth was drawn to wearables when her elderly mother didn't want to wear an alert button. So Booth got the idea to create a wearable watch that's voice activated and doesn't need a smartphone. The wearable, expected to be on the market this summer, also sends distress signals, location assistance and other alerts. She calls it OnStar for seniors. "I wanted my mother to live independently," Booth said. "Why give control to someone else?" The over-65 market is growing, explained Shailendra Mahajan, managing director of Maxim Ventures in San Jose, California. "People in that age group will be monitoring vital signs," said Mahajan, who invested $1 million in UnaliWear. "They want a good quality of life." .. Full... read more
We want to say thank you to Seton for today's Innovation Award at Healthcare Family's "The Future of Care: Healthcare Innovation Awards" Winners were selected from among 10 companies named finalists for Seton Healthcare Family's The Future of Care: Healthcare Innovation Awards. A field of 85 applicants responded to Seton's call for entries and submitted their solutions toward solving one of health care's most difficult challenges: communication. Recently, Seton, The University of Texas and Central Health established a nonprofit to develop the eastern part of downtown Austin as an innovation district connecting their health care practice and research with established businesses and enterprising start-ups. The goal is to spur innovation in health care and other sectors. "Seton is at the heart of solving real human problems in health care. As the largest caregiver in Austin's future Innovation Zone, Seton will be where collaborators physically come together to explore how to care for people in the best manner possible," Kristi Henderson, Seton vice president of Virtual Care and Innovation, said. "But in order to succeed at the highest level, the partnership must engage with entrepreneurs to rethink health care and imagine a different – and far better – future." The winners were: Kanega, a stylish watch designed by UnaliWear. This is the first all-in-one, voice-controlled device designed to keep people safe, while living independently. It provides fall detection, emergency help, "guide me home" assistance, voice-activated directions and medication reminders. Patient IO was honored as well and is an Austin company working to improve how people manage their personal health through mobile technology, received the Seton Innovation of the Year Award for its... read more
Ten Central Texas companies are in the running for an award honoring the businesses trying to creatively solve the most pressing issues in the health care industry. The three winners in Seton Healthcare Family's "The Future of Care: Healthcare Innovation Awards" will be announced April 27 at a luncheon at the Four Seasons Hotel in downtown Austin. One business will also be crowned the overall Innovator of the Year. Prizes include mentorships and work sessions with clinical teams, innovation leaders and subject matter experts. More than 80 companies applied. The finalists were chosen by a panel of judges including physicians, entrepreneurs, academics and investors. The 10 finalists are: • Afoundria, developer of Chartpath, a comprehensive clinical charting and billing tool; • Aunt Bertha, an online database of free and reduced-cost social programs that health care providers can use to provide food, housing, transportation and other resources to patients in need; • Decisio Health, developer of Patient Dashboard, which provides bedside clinical decision support for care teams; • ePatientFinder, which connects physicians to information about medical research trials and helps them determine whether patients qualify; • Humm, developer of a real-time patient feedback platform; • Patient IO, which develops a product to coordinate patient care by interacting with electronic health records and population health management systems; • Rallyhood, an online tool for coordinating and communicating emotional, practical and financial support for patients; • Sotera Wireless, developer of the Visi Mobile system for continuously monitoring and reporting patient vital signs; • UnaliWear, which develops a waterproof, voice-controlled smart watch that monitors vulnerable populations such as seniors or those with physical limitations;... read more
Health Tech Startups Focused on Caregiving To Pitch Industry Leader Judges and Consumer End Users Sharing Real-Time Feedback Washington, DC (PRWEB) March 29, 2016 AARP is pleased to announce the ten finalist companies for its fifth Health Innovation@50+ LivePitch event which will be held Wednesday, April 27, at Plug and Play Tech Center in Sunnyvale, CA. Ten startup health tech companies focused on caregiving were selected from over 200 applicants to pitch their businesses at this unique one day dual-pitch event. For more information and to register to attend at a price of only $299.00 for the full day, please visit http://www.prweb.net/Redirect.aspx?id=aHR0cDovL2hlYWx0aDUwLm9yZy8=. "We were very impressed by this year's applicants," said Jody Holtzman, senior vice president, Enterprise Strategy and Innovation, AARP. "It is refreshing to know there are so many companies focused on technology solutions for people 50 and over, as well as their caregivers. With literally millions of Americans requiring assistance and millions of others providing unpaid care to these folks, there is an immense need. Technology companies are rising up to deliver solutions to meet these needs and many of those companies will showcase their solutions on April 27th." According to AARP data in its recently issued Caregiving Innovation Frontiers (CIF) study, the caregiving market is expected to reach $72 billion by 2020, with $62 billion of that coming from caregiver's out of pocket spending. Right now, 40 million Americans are providing unpaid care of aging, disabled, or other people in need of assistance. By 2020, 117 million Americans will need assistance of some kind, yet the overall number of caregivers is only expected to reach 45... read more
UnaliWear, the Austin startup behind the Kanega smart watch for seniors, processes lifestyle data in the cloud while users sleep so it can give them intelligent help when they need it most, like offering directions home when it detects wandering.
read more
One entrepreneur Portfolia is backing is fifty-something Jean Anne Booth, whose company UnaliWear recently developed a smartwatch geared to seniors, called Kanega.
read more
UnaliWear™ and Maxim Integrated Products, Inc. today announced the initial closing of UnaliWear's $3.4M Series Seed financing, led by a $1M investment from Maxim Ventures.
read more
Serial entrepreneur Jean Anne Booth explains the evolution of her career, why she founded her latest company UnaliWear and how her current startup differs from her previous ventures.
read more
Of all the areas the report highlights, the need for better transition support and care coordination are among the most interesting. Several health IT startups have rolled out different approaches especially for finding professional caregivers and seniors who are compatible…. Caregiver startups include…UnaliWear.
read more
Booth shared that the opportunity in the vital health alerts market for seniors over the next four years could reach $1.6 billion dollars while personal safety monitoring could be between $1.5 and $2.9 billion dollars.
read more
"We've just begun to show how our human-centered technology can extend independence with dignity for millions of vulnerable people. I am looking forward to the day that our predictive intelligence ends the need for "missing elderly" alerts on the SilverAlert/AmberAlert signs!" – Jean Anne Booth, CEO and founder of UnaliWear.
read more
Booth and the heads of three other top startups focused on aging said that the advance of baby boomers into the 65 and older set means worlds of opportunity for entrepreneurs, even if the space is an afterthought for many venture capitalists and investors.
read more
Senior citizens may need a little help now and then, but they still tend to care about their dignity. UnaliWear is helping preserve that dignity with a new watch and related service that offers seniors the ability to call for help if needed, get reminders about when they need to take medicine, and guard against wandering if such behavior is a concern.
read more
Let's get together
Come see us at SXSW!
March 9-13, Austin, TX.
---
Let's get together
We'll be at SXSW!
Come see UnaliWear's CEO, Jean Anne Booth, as she appears in the sessions "Venture Funding Hits a  Lull, Now What?" and Women's Health Panel SXSW on "Women Revolutionizing Digital Health."
Contact us at info@unaliwear.com if you'll be at SXSW and would like to get together.