UnaliWear is in the news!
Explore all of our coverage and events
Featured Press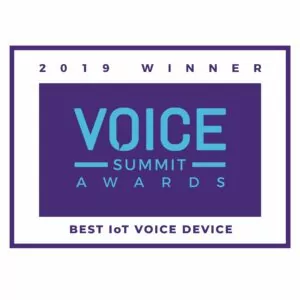 Aug 15, 2019
UnaliWear is thrilled to announce that the Kanega LTE watch was awarded the Best IoT Device at the inaugural 2019 VOICE Summit awards ceremony. At the Summit awards, the voice industry recognized UnaliWear's excellence in pushing boundaries, imagining the impossible, and solving the solvable while using voice first technology. This award showcases that the Kanega LTE watch is a leading innovation in Voice tech and AI solutions.
Read More →
Aug 2, 2019
IoT For All highlighted the Kanega watch and UnaliWear's CEO Jean Anne Booth in its feature Senior Care: How IoT Solutions Allow the Elderly to Live Independently. You can see the entire article at https://www.iotforall.com/iot-solutions-that-improve-senior-care/.
Read More →
Apr 9, 2019
Founder and CEO, Jean Anne Booth, is dedicated to providing independence to vulnerable populations. Read Start Up + Health Transformer article about her mission to create a smartwatch that gives senior citizens greater independence.
Read More →
Dec 12, 2017
CB Insights today will showcase innovative startups at its first-ever Demo Day where companies can present to investors without giving up any equity. While more than 2,000 companies applied for the opportunity to pitch at Demo Day, UnaliWear™ was one of 40 companies chosen to present at the A-ha! Conference. CB Insights selected UnaliWear as …
UnaliWear to Present at CB Insights A-ha! Demo Day Read More »
Read More →
Oct 17, 2017
Founder and CEO Jean Anne Booth presented UnaliWear and the Kanega Watch at the Health Tech Austin's Startup Showcase on October 9th. Read Health Tech Austin's interview with Jean Anne at http://www.healthtechaustin.com/jean-anne-booth/.
Read More →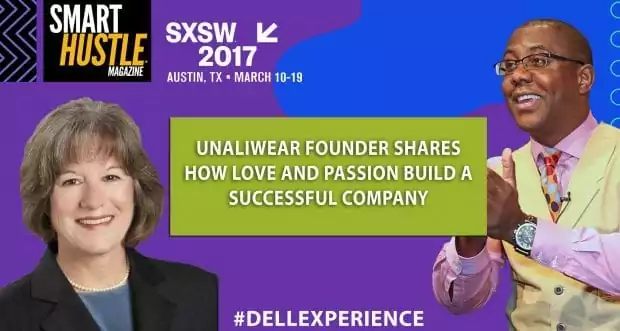 May 1, 2017
Smart Hustle Magazine features UnaliWear Founder Jean Anne Booth in an interview on the motivations for the creation of UnaliWear. You can see the interview at http://www.smarthustle.com/unaliwear-founder-shares-how-love-and-passion-build-a-successful-company.
Read More →
Apr 14, 2017
We are excited to have MedCity News and AARP name Jean Anne Booth, UnaliWear CEO, to their inaugural list of 50+ Innovation Leaders, consisting of the leading innovators of services and products designed to serve the booming 50+ consumer health market. The complete list of 50+ Innovation Leaders can be seen at http://medcitynews.com/50-plus-innovation-leaders/.
Read More →
Mar 20, 2017
The American Genius highlighted UnaliWear's Kanega watch, naming it "OnStar for the People." See the article at https://theamericangenius.com/tech-news/new-wearable-lifealert.
Read More →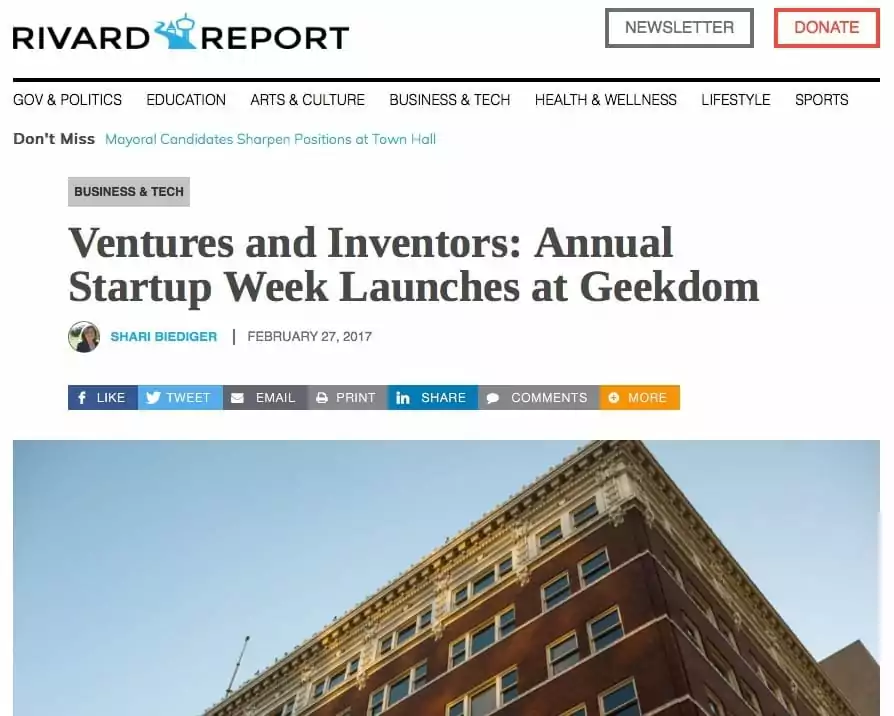 Mar 1, 2017
The Rivard Report features UnaliWear's CEO Jean Anne Booth in their article "Ventures and Inventors: Annual Startup Week Launches at Geekdom". The details can be found on The Rivard Report's website at https://therivardreport.com/ventures-and-inventors-annual-startup-week-launches-at-geekdom/
Read More →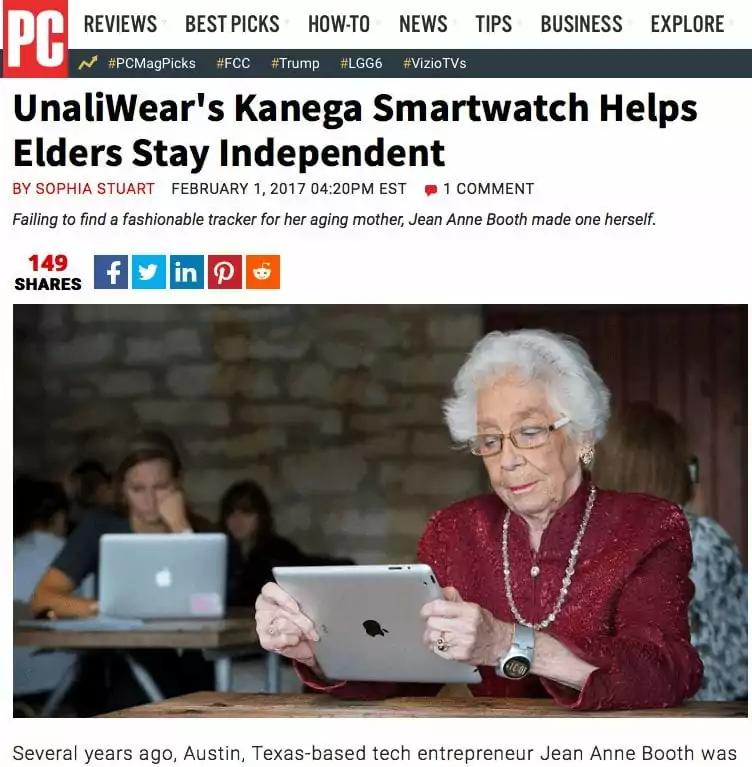 Feb 7, 2017
We would like to thank PC Magazine for featuring UnaliWear and the Kanega watch. You can read the entire article here: http://www.pcmag.com/news/351481/unaliwears-kanega-smartwatch-helps-elders-stay-independent.
Read More →
More Press
Mar 24, 2016
UnaliWear, the Austin startup behind the Kanega smart watch for seniors, processes lifestyle data in the cloud while users sleep so it can give them intelligent help when they need it most, like offering directions home when it detects wandering.
Read More →
Mar 18, 2016
One entrepreneur Portfolia is backing is fifty-something Jean Anne Booth, whose company UnaliWear recently developed a smartwatch geared to seniors, called Kanega.
Read More →
Mar 15, 2016
UnaliWear™ and Maxim Integrated Products, Inc. today announced the initial closing of UnaliWear's $3.4M Series Seed financing, led by a $1M investment from Maxim Ventures.
Read More →
Jan 4, 2016
Booth shared that the opportunity in the vital health alerts market for seniors over the next four years could reach $1.6 billion dollars while personal safety monitoring could be between $1.5 and $2.9 billion dollars.
Read More →
Nov 25, 2015
"We've just begun to show how our human-centered technology can extend independence with dignity for millions of vulnerable people. I am looking forward to the day that our predictive intelligence ends the need for "missing elderly" alerts on the SilverAlert/AmberAlert signs!" – Jean Anne Booth, CEO and founder of UnaliWear.
Read More →
Oct 15, 2015
Booth and the heads of three other top startups focused on aging said that the advance of baby boomers into the 65 and older set means worlds of opportunity for entrepreneurs, even if the space is an afterthought for many venture capitalists and investors.
Read More →
Oct 13, 2015
Senior citizens may need a little help now and then, but they still tend to care about their dignity. UnaliWear is helping preserve that dignity with a new watch and related service that offers seniors the ability to call for help if needed, get reminders about when they need to take medicine, and guard against wandering if such behavior is a concern.
Read More →
Sep 29, 2015
UnaliWear's Kanega watch aims to assuage the social stigma attached medical help devices by creating smartwatch that looks, well, like a normal watch. The watch provides support, medication reminders, directions and more, and doesn't require a smartphone.
Read More →
Sep 21, 2015
"If you're going to build that level of technology, China is really the place to go for cost effectiveness and capability for what it is we're doing," said Booth, the CEO of four-employee UnaliWear, a two-year-old firm in Austin, Texas.
Read More →
Aug 7, 2015
"I wanted to build something that my mother and I both would be willing to wear to remain safe as we age."–UnaliWear CEO, Jean Anne Booth
Read More →
Let's get together
Come meet with us at any of these events:
Usually we'd be out and about, but like you, we're sheltering in place. 
Recent Tweets