Pricing and Ordering
your Kanega Watch
Available in three accent colors  
Two simple all-inclusive options with no hidden fees, taxes or upsell charges
Annual Plan – Best Value
One Time Set-Up:  $149

Ongoing Monitoring/Service:  $59.95/month


(12 months paid upfront for entire year*)
Monthly Plan (Pay Set-Up and First Month upfront)
One Time Set-Up:  $449

Ongoing Monitoring/Service: $69.95/month
* Returns after 30-day trial will be refunded any unused full months of service
**One Time Set-Up is only billed in Year 1 of either plan. Year 2 and beyond, there is only the Ongoing Monitoring/Service
Both plans come with a 30-day risk free trial
(learn more)
360 VIEW
Click and drag on image to spin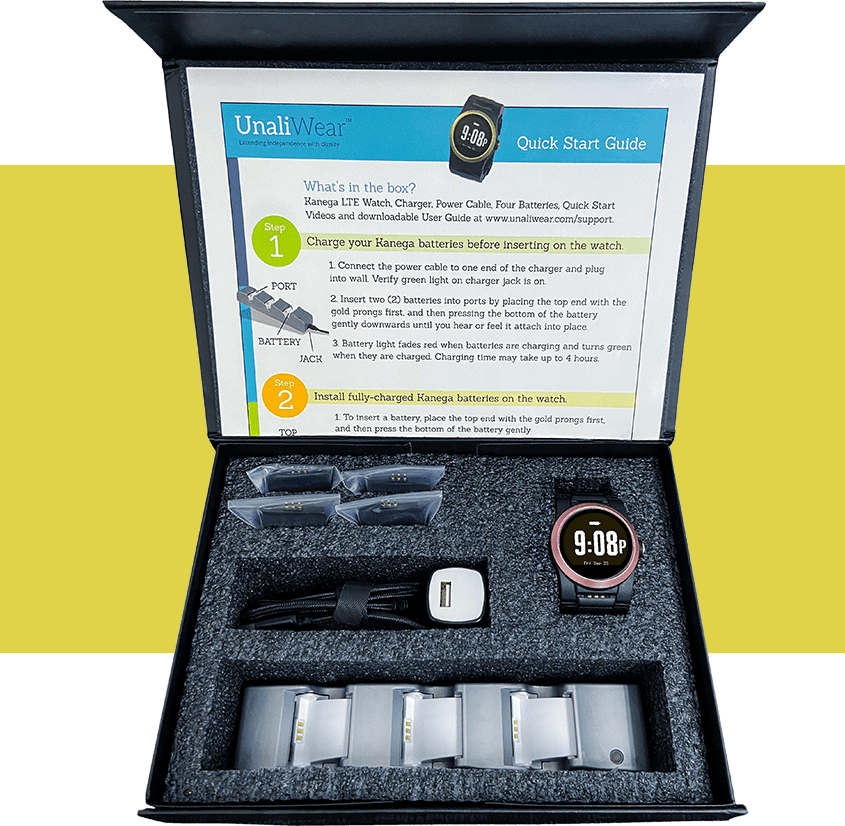 The Kanega Watch starts working out of the box.
What's included:
Your Kanega Watch in your selected accent color

Comfort-mesh stainless steel adjustable wrist band

Battery charger

4 long lasting lithium ion batteries

2 easily snap into the watch band and 2 can be charged off the band for simple daily swapping – so you are

always

protected.

Critical response and support services

Your watch automatically defaults to your home WiFi network while seamlessly switching to nationwide Verizon cellular coverage whenever necessary.

24/7/365 connection to Trained Care Specialists within a US-based TMA 5-Diamond and UL Certified monitoring center

Automatic fall detection

Pinpoint location detection
Order Form
Questions? Call us at +1-888-343-1513 or use the chat window below.
Order Your Kanega Watch in 3 Simple Steps:
Select watch specs, including your wrist size (click here for how to select your size)

Provide contact information

Select payment option – Annual or Monthly; and fill out Buyer contact/billing information - and hit Submit
IMPORTANT: Upon submitting your order, you will see our Thank You page with a link to our Configuration Form. Fill out the Configuration Form with the wearer's key info (eg: emergency contacts, home Wi-Fi credentials, etc.) asap, which we will use to customize your watch and set up your account.
Your Kanega Watch will ship within one business day after we have received your completed Configuration Form. 
Consumer Purchased Kanega Watch and Service
Independent Customer Reviews

I am so pleased with my Kanega watch which is also an alert system, as well as with the people at Unali service and highly recommend both. I had used another alert system which required use of my cell phone nearby and I could only use pendant for fall detection and battery was hard to change. Kanega solved that and I feel free and secure.
Garnet P

I am really happy that I discovered UnaliWear and its Kanega Watch. I wanted to feel protected from falls and other medical emergencies and this does that; and it's a watch! I like wearing a watch and it looks nice. I also really like the fact that I don't have to take it off to charge - that I can just swap out the batteries while it is still on my wrist, so I can wear it all the time. It was easy to buy and the customer service has been superb. I'd recommend this company and its watch to anybody looking for a device like this to keep them safe.
Richard S

"I am extremely satisfied with Unaliwear and the Kanega watch. I've had it a few months now, and it does everything it is supposed to do perfectly. No more pendants for me. I change the batteries every morning and don't believe I've taken the watch off more than twice since I've had it. I strongly recommend that you try it."
Doug

The Kanega Watch is my 'go-with-me', ever present companion. I really didn't want to wear a pendant, so this is the perfect option. Nobody has to know I have a medical alert device on and I can still brag to people about the watch if I want to. And I love the fact that, in an emergency, the watch connects with a care specialist who knows my medical info and history - to share with the EMTs if that is necessary. Plus, UnaliWear has incredible customer service - from purchase to on-boarding to any questions or comments I have since I started wearing it. I would highly recommend this company and the Kanega Watch to anyone at risk of a fall or other emergencies.
Paul M

I have had my Kanega watch a short time, but am very pleased with a few features especially. Fortunately I have not had need for assistance, but at one point when I tripped in my home, the software assumed a fall had taken place (as indicated it would in the description of the benefits of the watch), notified me that help was being called, and cancelled the call immediately upon my negating the need for such assistance. I wanted a product that would allow me to move more freely and even travel with the security that I can summon assistance if needed. I am extremely pleased with the customer service provided by this company. My questions are answered promptly and courteously. I would highly recommend this device and this company.
Sharon S

I love my Kanega watch . I am an active person and it gives me a sense of security with the monitoring if I am alone and would need help. The watch is easy to use . I think it is great to wear all the time and gives me security day and night.
Nancy

I had been looking for a medical alert system for months and months but found problems for me with all on the list. While searching my computer one day the Kanega watch website appeared and immediately I liked what I saw and read. I find the watch to be comfortable and actually am not aware that I am wearing it. The batteries are large enough to handle easily and the recharging station is uncomplicated and efficient. Best of all, my children are relieved that I can easily get help if I fall while I am alone. I highly recommend this product.  
Paula K

I am very happy with my Kanega watch and Unaliwear's outstanding customer service. They have been so helpful in answering all of my questions. This alert system is so comprehensive and has all the qualities I was looking for — waterproof, GPS, fall detection, excellent monitoring system, battery-operated and best of all — it's a watch that you never have to remove. I did not want to wear a pendant!! I have had two other medical alert systems over the past 3 1/2 years, and they don't even compare to the Kanega watch. I highly recommend this wonderful product!   
Kay L

I have had the watch for 2 months and am satisfied with the ease of use and safety component. It is very easy to change the batteries each day and I never take it off. Wherever I travel in the car I can feel safe. I walk every day in the neighborhood and know that I can get help if needed. The GPS feature will bring help wherever I am, also the fall detection is an added feature. I would highly recommend this product to anyone who lives alone. 
John D

After realizing I needed a health alert system because I lived alone, I did extensive research online of all devices currently advertised in magazines. These devices did not give me the freedom of traveling, shopping or just visiting with friends without being obvious and some were cumbersome. Finally one of my searches brought up Kanega Watch and it was just want I wanted: a simple design and function - time, date and fall detection that is not tied to a base station's reception area or a person's cell phone. The watch does not give away the fact that an alert system is being worn. Love this device! 
Elisa O