Pricing and Ordering
your Kanega Watch
Available in three accent colors  
Two simple all-inclusive options with no hidden fees, taxes or upsell charges
Annual Plan – Best Value
One Time Set-Up:  $149

Ongoing Monitoring/Service:  $59.95/month


(12 months paid upfront for entire year*)
Monthly Plan (Pay Set-Up and First Month upfront)
One Time Set-Up:  $449

Ongoing Monitoring/Service: $69.95/month
* Returns after 30-day trial will be refunded any unused full months of service
**One Time Set-Up is only billed in Year 1 of either plan. Year 2 and beyond, there is only the Ongoing Monitoring/Service
Both plans come with a 30-day risk free trial
(learn more)
360 VIEW
Click and drag on image to spin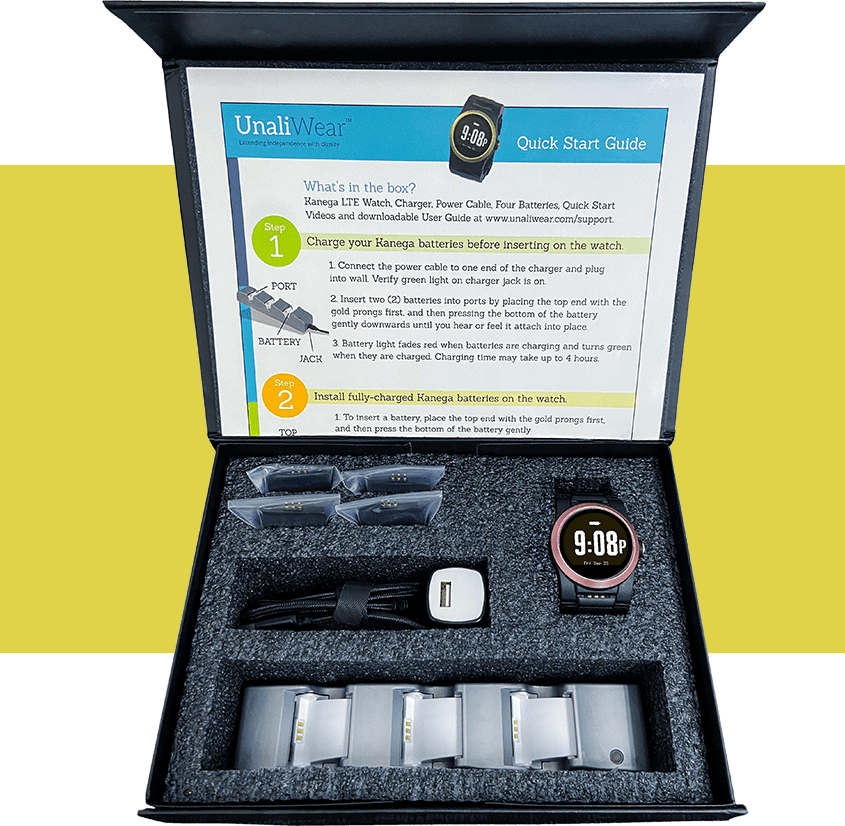 The Kanega Watch starts working out of the box.
What's included:
Your Kanega Watch in your selected accent color

Comfort-mesh stainless steel adjustable wrist band

Battery charger

4 long lasting lithium ion batteries

2 easily snap into the watch band and 2 can be charged off the band for simple daily swapping – so you are

always

protected.

Critical response and support services

Your watch automatically defaults to your home WiFi network while seamlessly switching to nationwide Verizon cellular coverage whenever necessary.

24/7/365 connection to Trained Care Specialists within a US-based TMA 5-Diamond and UL Certified monitoring center

Automatic fall detection

Pinpoint location detection
Order Form
Questions? Call us at +1-888-343-1513 or use the chat window below.
Order Your Kanega Watch in 3 Simple Steps:
Select watch specs, including your wrist size (click here for how to select your size)

Provide contact information

Select payment option – Annual or Monthly; and fill out Buyer contact/billing information - and hit Submit
IMPORTANT: Upon submitting your order, you will see our Thank You page with a link to our Configuration Form. Fill out the Configuration Form with the wearer's key info (eg: emergency contacts, home Wi-Fi credentials, etc.) asap, which we will use to customize your watch and set up your account.
Your Kanega Watch will ship within one business day after we have received your completed Configuration Form. 
Consumer Purchased Kanega Watch and Service - Fall Detection CPL
Hear what our customers say...
"My devoted & beloved son, Phil, gave me my first Kanega watch by UnaliWear in 2018.
I consider it to be a true "life-saving" device; it is like having an EMT 'shadow' on my wrist 24 hrs.
It was the perfect "Father's Day" gift.
Their customer service team with their support & responsiveness is FANTASTIC" !
-- Paul M. (age 72)
"It's very good, especially for people that can't see; If anyone has a problem seeing, they can ask it the time. Whether it's sunny or night time, it always answers. Or if you fall, it's always there for you."
-- Mary N.
"I appreciate that it is there & I can depend on it. Everything works as it's supposed to – my brother confirmed where I was!"
-- Garnet P.
"I appreciate it because my children thought I should be wearing it and it's very reassuring to them. It's not bad looking either, it's very groovy." 
-- Katharine P.
 "[My dad] loves that his "watch" is so cool and that it doesn't make him feel like he is an invalid.
He is showing it off to everyone he sees! (Thank you!!) "
– A.H.
"Many people comment on my watch. And, because of med reminders, I now take my meds much more regularly. My last doc appt was the best ever and I attribute that to taking my meds regularly!"
 - H.D., a happy Kanega watch wearer with early stage Parkinson's 
"Thank you for making a watch my mom can wear with dignity that meets her...and her children's... needs!"
- Elizabeth M, whose mom has a Kanega Watch