UnaliWear is in the news!
Explore all of our coverage and events
Featured Press Stories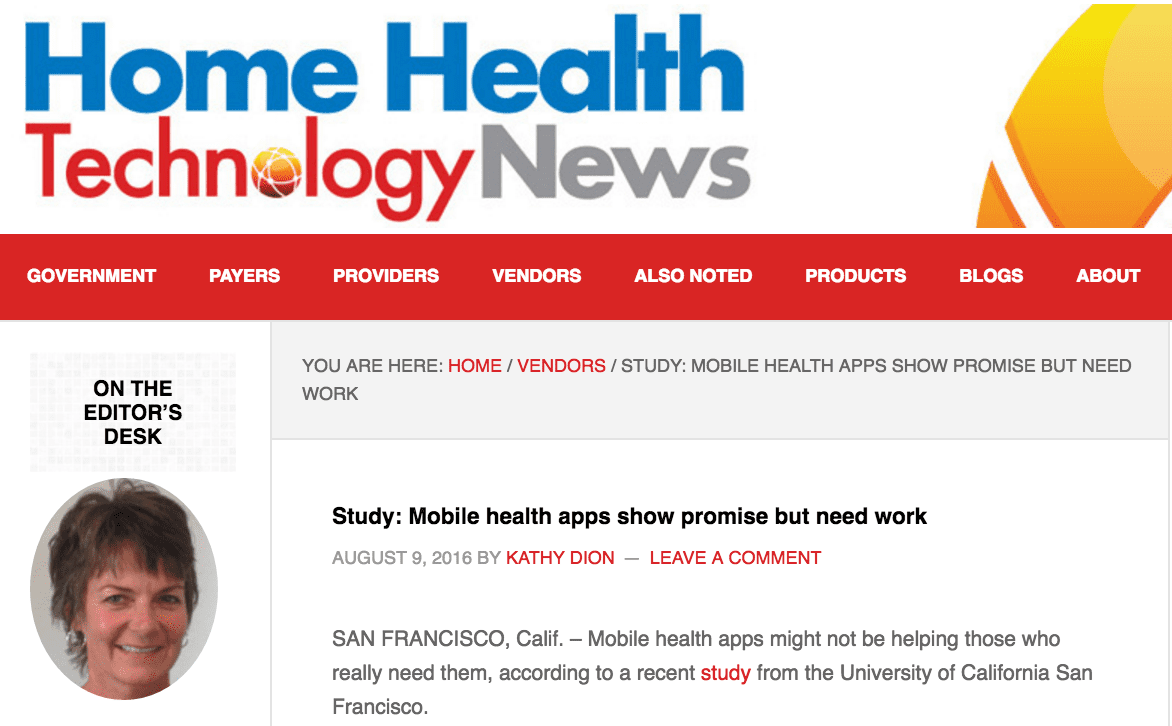 SAN FRANCISCO, Calif. – Mobile health apps might not be helping those who really need them, according to a recent study from the University of California San Francisco. The study was conducted with 26 patients at The Priscilla Chan and Mark Zuckerberg San Francisco...
---
More Press
"If you're going to build that level of technology, China is really the place to go for cost effectiveness and capability for what it is we're doing," said Booth, the CEO of four-employee UnaliWear, a two-year-old firm in Austin, Texas.
read more
"I wanted to build something that my mother and I both would be willing to wear to remain safe as we age."–UnaliWear CEO, Jean Anne Booth
read more
UnaliWear, of Austin, Texas, won the best-in-category award for Health and Wearables.
read more
Described as a "Wearable OnStar for Seniors," their Kanega smart watch performs the usual functions of a timepiece —including a face that shows time, date and reminders in text large enough to read without glasses, with voice recognition that responds to a name the owner gives it, enabling voice-initiated requests for GPS directions."
read more
A Consilient Conversation – UnaliWear: How Wearables Extend Independence with Dignity to Seniors
read more
Although I got to demo and learn about numerous items, there were…extremely innovative products that stood out to me. The first was a smart watch developed by a Unaliwear for the elderly called the Kanega.
read more
Thank you Smithsonian for mentioning our UnaliWear Kanega Watch Kickstarter Campaign and read more about UnaliWear Kanega Watch Kickstarter Campaign here:  UnaliWear Kanega Watches for Seniors: Wearable OnStar (Goal: $100,000 Raised: $110,154 on Kickstarter) UnaliWear... read more
The Kanega is a great example of a product that lies outside of 'Never Land'- first and foremost, it literally acts as a watch and tells time. But more metaphorically, it is an exciting, buzz-worthy product with real technology to back it up.
read more
Booth successfully raised $800,000 from angel investors and she has exceeded her $100,000 goal on a Kickstarter campaign with six days left to go. So far, she has raised $104,000. She plans to deliver the Kickstarter devices early next year and have her watch on the consumer market by next summer. The watches cost $299 for an activation fee and $35 to $80 a month for monitoring services.
read more
Although it looks and functions like a watch, it offers life-saving features to the wearer without provoking a loss of independence and dignity.
read more
The product is focused on extending independence with dignity for millions of vulnerable seniors and judging by recent pledges (over $100K raised), they are well on their way to doing just that.
read more
TheStreet's Scott Gamm took a quick tour of the SXSW-hosted health and medical technology exposition and interviewed Jean Anne Booth from UnaliWear.
read more
Austin entrepreneur Jean Anne Booth has big plans for South by Southwest as her company rolls out a smartwatch geared to helping seniors keep track of their health.
read more
Kanega is a waterproof, standalone device that doesn't need a hub or smartphone to operate. It makes nightly connections to pharmacies to bring medication updates to the watch, aside from the continuous welfare check and fall detection.
read more
Let's get together
Come see us!
---
Let's get together
We'll be at SXSW!
Come see UnaliWear's CEO, Jean Anne Booth, as she appears in the sessions "Venture Funding Hits a  Lull, Now What?" and Women's Health Panel SXSW on "Women Revolutionizing Digital Health."
Contact us at info@unaliwear.com if you'll be at SXSW and would like to get together.