There's nothing like a Kanega Watch
There's nothing like a Kanega Watch anywhere in the world - except here in the USA.  Get rid of those old stereotypes, and let our frequently asked questions guide you in the exploration of a new world of independence with dignity for vulnerable populations.   
Have a question that isn't covered below?  Call us at +1-888-343-1513 or use the chat window below.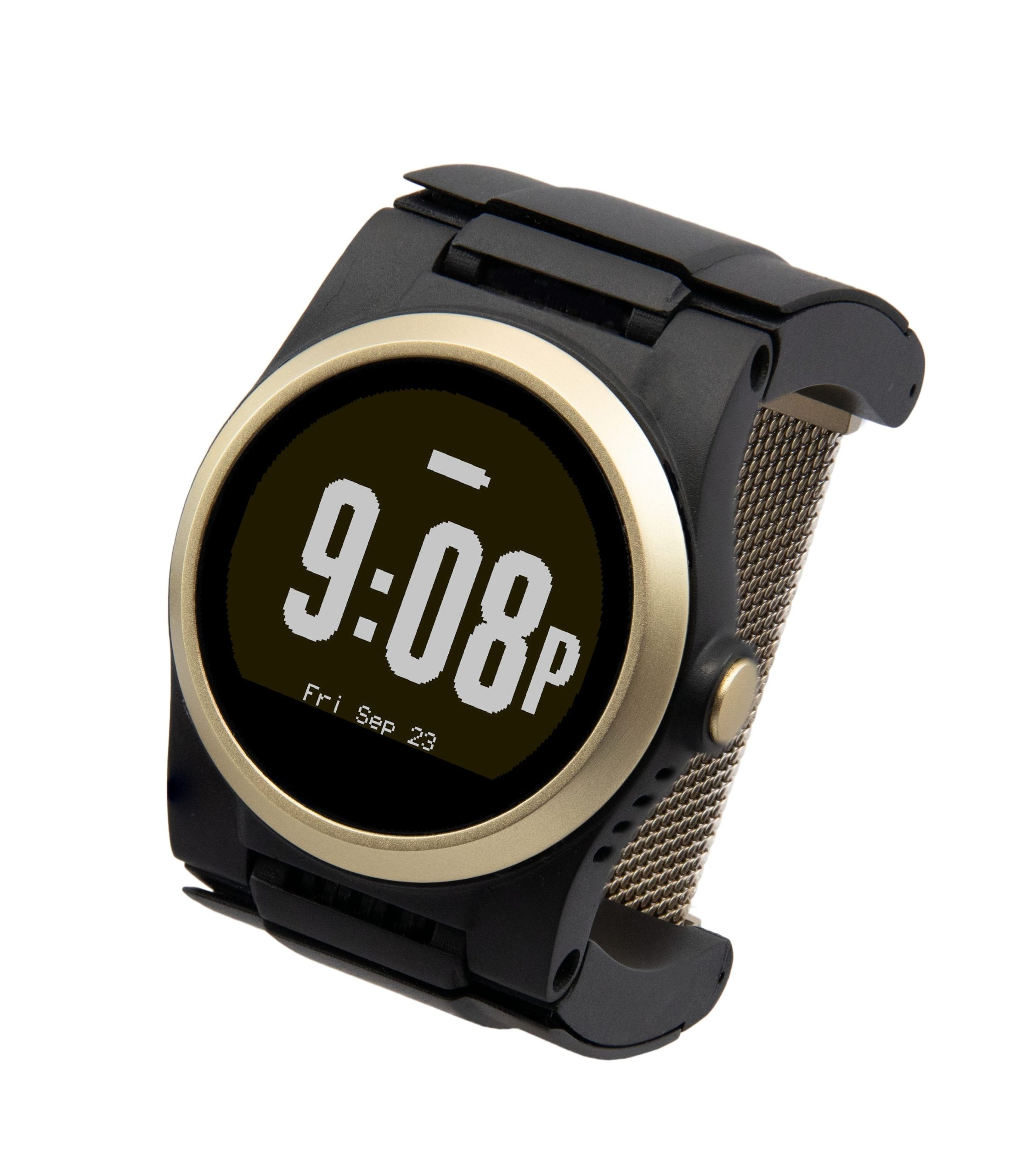 | | | |
| --- | --- | --- |
| 1.6 inches | .5 inches | 49 grams |
Frequently Asked Questions (FAQs)
We know who you are and can find you in an emergency.
In an emergency situation, the cell phone requires the user to initiate the call, which may be difficult or impossible in a medical emergency. The 911 operator will have no information about the caller, their location, or emergency contact information. Even if the caller can communicate, valuable time can be wasted while the 911 operator gathers needed information.
In contrast, the Kanega Watch can detect a fall and automatically connect the wearer to the monitoring center. The wearer can also initiate a call to the monitoring center with a button press or a spoken command. Whether initiated automatically by the watch or by the wearer, the Kanega Watch connects to an operator who has the wearer's contact information and location at hand, and if needed, can quickly summon help.
While some smart watches have safety features such as fall detection, the watches must be removed to charge. Most people charge their watches at night, when many falls happen. A trip to the bathroom with the smart watch on the charger provides no protection.
The Kanega watch has a patented quick-swap battery system, which means you never have to take it off to charge.
The Kanega Watch provides fall detection, emergency response, and medication reminders in a stylish watch design—avoiding the perceived stigma of traditional emergency buttons and pendants.
No. The Kanega Watch monitoring service includes cellular connectivity. Wi-Fi in the home is required to augment internet connectivity.
The Kanega Watch comes with two all-inclusive payment options.  There are no additional fees, taxes, or surprise charges and we also provide a lifetime price lock guarantee with both plans:
Annual Plan – Pay upfront for the entire year - YOU SAVE $220 in First Year Over Quarterly Plan
One-Time Watch Set-Up:  $199
Monthly Service:  $59.95
Quarterly Plan – Pay Set-Up and 3 Months of Service upfront
One-Time Watch Set-Up:  $299
Monthly Service:  $69.95
Both plans come with a 30-day satisfaction guarantee return policy for a full refund.  For the Annual Plan, returns during the year will be issued a pro-rated refund for all unused months paid upfront. With either plan, there is no contract to sign and you are free to cancel at anytime.
We offer a discounted rate for 2 people getting Kanega Watches in the same physical location (our Family Plan), as well as a free month of service for families of active duty military and veterans as well as AARP members.  Call us at +1-888-343-1513 for details.
UnaliWear collects data for the monitoring service and to maintain the functionality of the Kanega Watch. The watch has built-in sensors to gather information about location, movement/falls, humidity, battery status, and connectivity. Data is also collected from the use of voice commands to interact with the watch and calls to the emergency monitoring service.
The Kanega Watch extends your independence. Wi-Fi and LTE wireless technologies allow the Kanega Watch to go everywhere you go.
Not yet. We have future plans for international expansion, but for now, we support only users in the United States.
The Kanega LTE watch has been tested to an IP67 Waterproof Rating to provide protection against running water. You can wear your watch while exercising, washing your hands, and in the shower, but immersive activities such as swimming are not recommended.
Yes. The Kanega Watch can remind you when it is time take your medications.
No, you do not need a phone. The Kanega Watch is a standalone device with built-in Wi-Fi and LTE technologies.
Yes, the Kanega Watch will not interact negatively with a pacemaker or an Implantable Cardioverter Defibrillator (ICD).
Traveling or Moving Around
No. The Kanega Watch is currently configured to use only the cellular network in the United States.
Yes and No. The Kanega Watch location information is used by the the medical monitoring center for emergency dispatch services. There is currently not a tracking application.
Yes, but as with all devices that communicate with the cellular network, the Kanega Watch will need to be put in "Airplane Mode" to comply with federal and airline regulations. Airplane mode can be turned off once back on the ground.
Yes. You can converse with the monitoring service through the watch.
Best practice is to proactively change batteries daily; making it part of your morning or evening routine.
Your Kanega Watch sets the correct time automatically. If you travel, the time updates automatically with your new time zone.
The Kanega Watch uses lithium ion batteries, the same type of batteries used in most cell phones, all of which require special handling when disposing. Each state has its own recycling regulations, so check with your local and state authorities on what is required for your area.
Very likely. The Kanega Watch's fully adjustable band comes in 4 sizes - Small to XL, and can accommodate wrists as small as 5 inches in circumference.
The Kanega Watch band is a gender neutral, stainless steel mesh loop band with an adjustable buckle clasp. If for any reason, the Kanega Watch band cannot be adjusted sufficiently, contact UnaliWear Customer Success.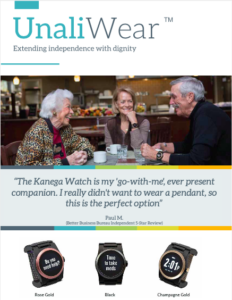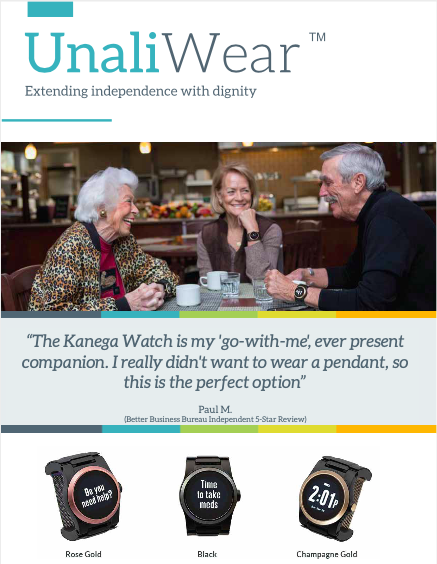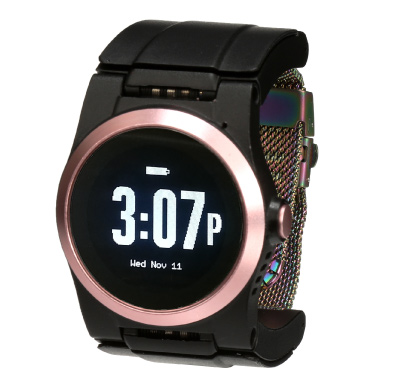 360 VIEW
Click and drag on image to spin
Meet the Kanega Watch
The first all-in-one, voice-controlled device designed to keep you connected, independent, active and safe.
30-Day Risk Free Trial
(learn more)