We would like to thank the team behind the article: "StartUp Health Announces 10 Health Moonshots with Global Army of Health Transformers to Improve Health of Everyone in the World" for mentioning our CEO, Jean Anne Booth.  Click here to read the full article.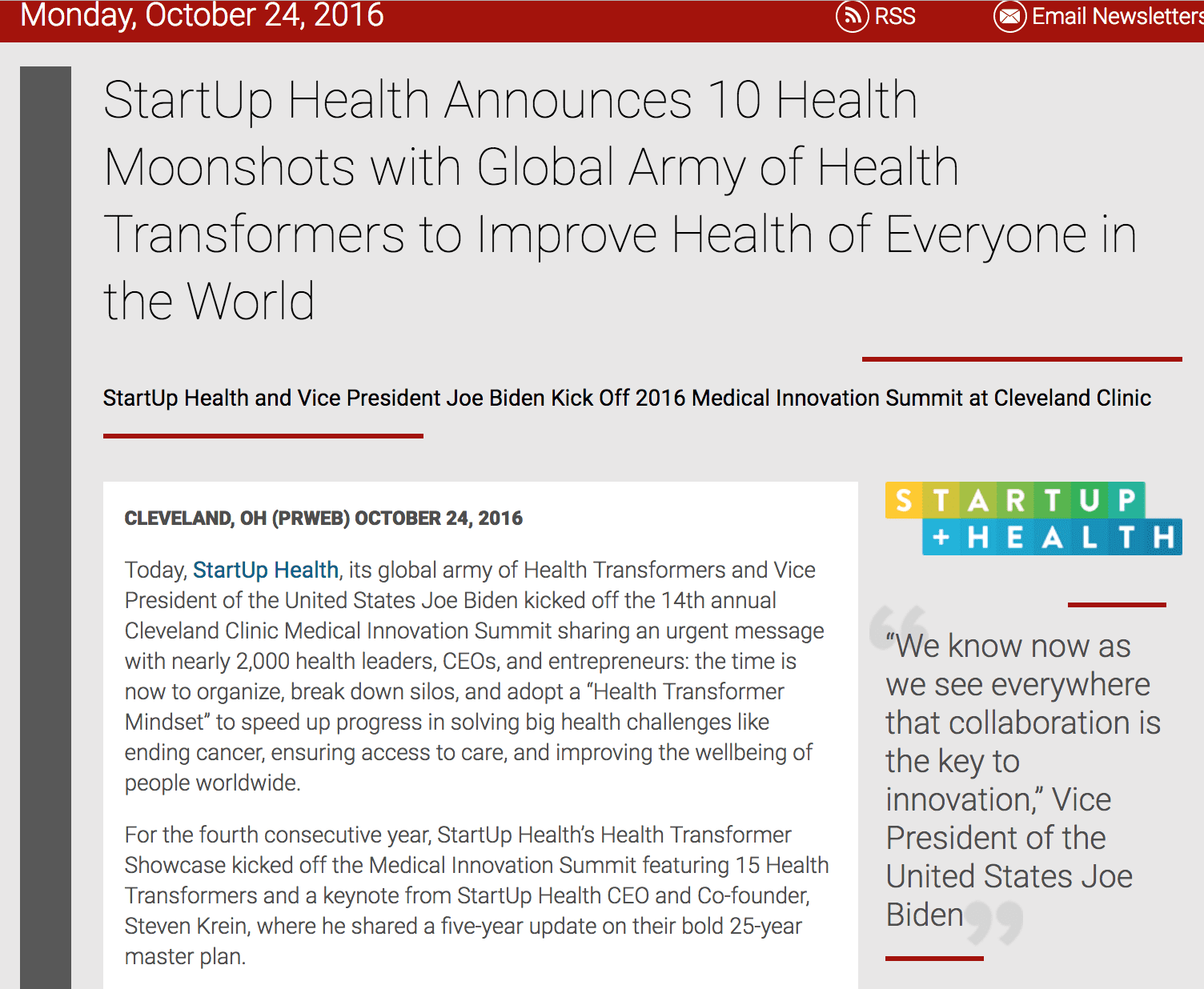 Today, StartUp Health, its global army of Health Transformers and Vice President of the United States Joe Biden kicked off the 14th annual Cleveland Clinic Medical Innovation Summit sharing an urgent message with nearly 2,000 health leaders, CEOs, and entrepreneurs: the time is now to organize, break down silos, and adopt a "Health Transformer Mindset" to speed up progress in solving big health challenges like ending cancer, ensuring access to care, and improving the wellbeing of people worldwide.
For the fourth consecutive year, StartUp Health's Health Transformer Showcase kicked off the Medical Innovation Summit featuring 15 Health Transformers and a keynote from StartUp Health CEO and Co-founder, Steven Krein, where he shared a five-year update on their bold 25-year master plan.
"In 2011, StartUp Health launched an ambitious movement to organize and support a global army of Health Transformers with the long-term goal of improving the health and wellbeing of everyone in the world," said Steven. "Over the past five years, we've organized thousands of entrepreneurs, innovators and organizations committed to transforming health. In addition to rapidly growing this global force, StartUp Health and our partners are investing in and focusing on 10 Health Moonshots, each which will impact billions of people."
StartUp Health's army of Health Transformers and network is organized around 10 Health Moonshot themes, all of which are connected and integral to one another. Additionally, StartUp Health will work to integrate the world's numerous Moonshot initiatives:
1. Access to Care Moonshots: deliver quality care to everyone, regardless of location or income
2. Cost to Zero Moonshots: radically reduce the cost of care by a factor of a million
3. Cure Disease Moonshots: cure human disease using data, technologies and personalized medicine
4. Cancer Moonshots: end cancer as we know it
5. Women's Health Moonshots: prioritize women's health, including preventive care and new research
6. Children's Health Moonshots: ensure every child has access to quality care, particularly in underserved areas
7. Nutrition Moonshots: ensure everyone has access to healthy food and water
8. Brain Health Moonshots: unlock the mysteries of the brain to improve health
9. Mental Health Moonshots: destigmatize mental health and connect mind, body and spirit
10. Longevity Moonshots: add 50 healthy years to every human life
Following a dynamic Fireside Chat between Dr. Toby Cosgrove, CEO and President of Cleveland Clinic and Steven Krein about how to speed up progress and the pace of health innovation, Vice President Biden delivered an inspiring address calling on everyone to do their part in sharing research, data, and resources.
"The Moonshot is all of us who understand the urgency and need to reimagine the cancer fight for the 21st century. It's the spirit of discovery that defines this country. And it gives me every confidence that we are going to make enormous progress," said Vice President Biden.
"The Moonshot is fundamentally about two things," continued Mr. Biden. "It's about injecting the urgency of now into this fight. Not tomorrow, not in two hours, now! And it's about changing the culture. Coming up with a new strategy for this fight. Not the strategy left over from 1971."
"We know now as we see everywhere that collaboration is the key to innovation," he said to the audience of healthcare leaders.
"The magic ingredient to solving the world's biggest Health Moonshots is to organize the wisdom and energy of the world's Health Transformers and bring them together as a united force sharing data and resources," said Unity Stoakes, President and Co-founder of StartUp Health. "Every solution can make an impact, and as a collective army we can make 100 years of progress in 25."
The following entrepreneurs shared innovations and impact missions during the Health Transformer Showcase:
Juan Pablo Segura, President of Babyscripts (getbabyscripts.com), is on a mission to transform prenatal care with remote monitoring and big data.
Mark Cavicchia, CDO of RC21X (rc21x.com), is on a mission to improve brain health with a cloud-based tool that provides easily obtainable, objectifiable data about human brain performance.
Josep Carbo, CBDO & Partner of Mediktor (http://www.mediktor.com), is on a mission to transform patient care by leveraging AI to help patients and clinicians make the safest, cheapest, and most efficient decisions when first symptoms appear.
Lan Nguyen, MBA, CEO of ManageUP PRM (manageupprm.com), is on a mission to transform health by reinventing communication and collaboration software for employees of large health systems.
Avinash Kodey, CEO of MDOps (mdops.com), is on a mission to improve patient care with a virtual assistant that enables clinicians to use natural-language commands to quickly analyze patient data at the point of care.
Adam Simon, CEO of Cerora (cerora.com), is on a mission to transform brain health assessment globally with an initial focus on concussion and traumatic brain injury, with a multimodal biosensor-based solution and objective biosensor data.
Jean Anne Booth, CEO of UnaliWear (unaliwear.com), is on a mission to transform senior care with the Kanega watch and service that provides discreet support for falls, medication reminders and a guard against wandering.
Thomas Dewane, CEO of Jaystreet Technologies (jaystreettech.com), is on a mission to maximize healthcare providers' schedules through a cloud-based platform.
Teddy Hodges, CEO of BRACEUNDER (braceunder.com), is on a mission to improve quality of life intelligent orthopedic garment technology for people with all body types.
Beth Sanders, CEO of LifeBio (lifebio.org), is on a mission to humanize health data, lower healthcare costs and enhance end-of-life care with a life story and communication platform.
Pablo Pantaleoni, CEO of Medtep (medtep.com), is on a mission to facilitate lasting behavioral change by personalizing validated care plans through a care management platform.
Stuart Jacobson, CEO of Biome Analytics (biome.io), is on a mission to help doctors and hospitals deliver better cardiovascular care at a lower cost.
Maksim Tsvetovat, CTO of Open Health Network (openhealth.cc), is on a mission to make it possible for anyone, in any language, to design custom health apps.
Thomas Tsang, MD, MPH, CEO of Valera Health (valerahealth.com), is on a mission to transform behavioral health with its for patients, payers, providers, employers and caregivers.
Eran Kabakov, CEO of Docola (doco.la), is on a mission to improve care by improving patient communications.
The 2016 Medical Innovation Summit – "Innovating for Healthcare's Transformation" – reflects the sense of urgency in an industry in the midst of historic change. The conference will go through Wednesday, October 26th, at the Huntington Convention Center of Cleveland and the adjacent Global Center for Health Innovation. Nearly 2,000 industry leaders, investors, inventors, entrepreneurs, providers and payors are attending the Summit to examine the potential of innovation that is reshaping modern medicine.
Access video presentations and keynotes from StartUp Health's Health Transformer Showcase at http://www.facebook.com/StartUpHealth and follow on Twitter @StartUpHealth and #MIS2016.
About StartUp Health
In 2011, StartUp Health introduced a new model for transforming health by organizing and supporting a global army of entrepreneurs called Health Transformers. StartUp Health is investing in 10 Health Moonshots with the long-term goal of improving the health and wellbeing of everyone in the world. With the world's largest digital health portfolio (more than 170 companies spanning 5 continents, 16 countries and 60+ cities), StartUp Health's long-term platform for entrepreneurs includes the StartUp Health Academy, StartUp Health Network, StartUp Health Media and StartUp Health Ventures. StartUp Health was founded by Steven Krein and Unity Stoakes and is chaired by former Time Warner CEO, Jerry Levin. StartUp Health's notable strategic partners and investors include AARP, Aurora Health Care, California Health Care Foundation, Children's Hospital Colorado, University of Colorado, UCHealth, Steve Case, Mark Cuban, Esther Dyson, Brad Feld, Genentech, GE Ventures, Johnson & Johnson, Kaiser Permanente Ventures, Robert Wood Johnson Foundation and SeventySix Capital. Learn more at http://www.startuphealth.com.